The App Store offers many tower defense games for the iPhone and iPod touch, but few deliver the quick, engaging play and a twisted sense of humor found in Knights Onrush. In fact, Knights Onrush from Chillingo combines standard tower defense and "God game" elements into a specific sub-genre of game which showcases the best of both worlds.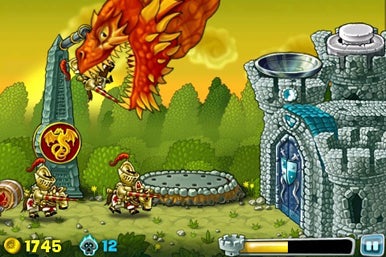 In Knights Onrush, you must defend your castle from—quite literally—onrushing knights. You have a plethora of defensive strategies at your disposal, from simply tossing a knight off the screen or feeding him to a hungry dragon or dropping him into the depths of Hell. You also have the ability to upgrade your castle with stronger armaments, such as a gun tower and doors which take longer to break through. Each of these elements contribute to your strategy throughout the game, especially when combined with the different speeds at which the knights attack.
Defending your castle in Knights Onrush is a simple as swiping your finger across the screen. The easiest and most effective method is tapping on a knight and then flicking him off the screen to his death. You receive a small sum for each enemy you eliminate, and you can use these funds to upgrade your castle door or purchase new weaponry to use on the knights. As the knights storm your castle, you can monitor the strength of your castle door through a "life bar" at the bottom of the screen.
Knights Onrush offers three different gameplay modes: Campaign, Endless Siege, and Madness. In Campaign mode, you follow a map to each different castle, which must be defended for a set period of time. For example, in an early level, you must defend the castle for seven days. At the end of each day—or wave—you see your score and the number of enemies you killed in that previous wave; you then have the opportunity to buy the aforementioned upgrades. Endless Siege and Madness modes are variations on the "How Long Can You Survive?" premise. The longer your survive the onslaught, the higher your point total.
The game offers five different types of castle doors ranging from the standard wooden door to the "ultimate" reinforced door. The game also offers three types of regular guns: cannon, freezer and flamethrower as well as three kinds of ballista rooftop guns. The game also features two "sacrificers," which are arguably the most interesting and entertaining way to eliminate the deluge of knights headed your way. A hell gate places a portal to hell directly next to your castle. Dragging and holding a captured knight above the gate causes the portal to open and usher the knight into eternal damnation. You can also place a knight on the dragon altar and wait for a dragon to snatch up the little guy. If this sounds like delirious fun, that's because it is.
In addition to different gameplay and difficulty levels, Knights Onrush includes a cheat option, which unlocks all levels. The game also offers players the ability to listen to their own music while playing, an ever popular and often requested feature posed to all iPhone game developers.
As we posted this review, Knights Onrush was on sale for $1. Chillingo also offers Knights Onrush Free, which limits the fun to the Endless Siege mode and three enemy types.
In a crowded tower defense genre, the humor and fast and furious gameplay of Knights Onrush stands apart as an interesting and engaging take on a now standard game.
[Brendan Wilhide is a frequent contributor to Macworld. He covers athletes and the sports industry on Twitter at Sportsin140.com.]