If you don't feel like sitting down and writing a Christmas card to every last person you know this year or just don't have the time, don't fret. Xmas Card Factory from Bytes in Boxes allows you to create and send customized cards in a matter of minutes, using several of the iPhone's functions.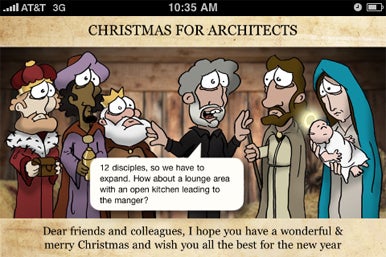 Xmas Card Factory simplifies things by providing just one template, a cartoon nativity scene full of very concerned witnesses to the virgin birth, with a twist: an extra guest in the manger, whose profession you get to choose from a list of about 50. Each professional's speech bubble says something appropriately stereotypical about Mary and Joseph's situation. The lawyer calls for a paternity test, the teacher suggests a Montessori school to help the newborn develop his unique talents, and the author haggles over rights to the book.
Even more fun, you can take a picture with the iPhone's camera or select one from your library to superimpose over your chosen professional's face. Then you can e-mail it off or save it to your phone for future laughs.
Xmas Card Factory is fairly simple and good for a laugh, although I did notice that the same picture was sometimes used for multiple professions (example: the journalist, editor, and entertainment executive), which isn't particularly creative. The app is probably more suited to amusing yourself or sending the funniest cards to your good-humored friends, regardless of their professions or yours.
[Meghann Myers is Macworld's editorial intern.]