Editor's Note: The following article is reprinted from Macworld UK. Visit Macworld UK's blog page for the latest Mac news from across the Atlantic.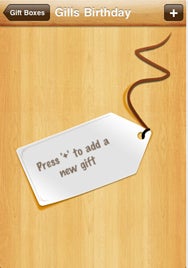 Based near Aberdeen, Scotland, Zicron Software has introduced Gift Box for iPhone and iPod touch.
Gift Box is billed as a gift notepad allowing shoppers to take a photo of any item and remember the cost and store and even rate it, as well as the ability to easily add new items to a box helping organise them for any purpose.
"It's especially helpful with buying gifts which at this time of year is very handy," says Zicron.
Available from the App Store, Gift Box costs $1 and requires the iPhone 3.0 Software Update or later.
Established by John S. Eddie, Zicron Software also provide consultancy services for desktop, web and mobile applications.