Editor's Note: The following article is reprinted from Macworld UK. Visit Macworld UK's blog page for the latest Mac news from across the Atlantic.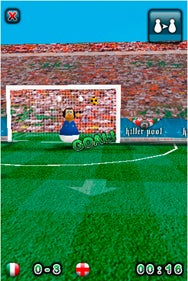 UK based digital creative agency Sauce Digital has released Touch Soccer 3D for iPhone and iPod touch under the under the banner of SD Games, Sauce Digital's games development wing.
The game, known as Touch Football 3D in the UK, is a first person, gesture controlled, 5-a-side football game, played on a walled pitch.
Using swipes and flicks to run, pass, shoot and tackle, the game is viewed from the eyes of the player and kicking is achieved by flicking the ball on screen, a unique approach to the genre of soccer games insists Sauce Digital.
The game is billed as fully 3D, and allows many techniques of the real game. Players can swerve and dip the ball and pass/shoot in any direction. Volleys, backheals headers, trapping and tackling are all possible, as are the penalties and free kicks that are awarded in games.
Available from the Apple iTunes App Store, Touch Soccer 3D costs $1 for a limited time and requires the iPhone 2.2.1 Software Update or later.
Sauce Digital's previous iPhone games include the well received Killer Pool and Nano Rally.