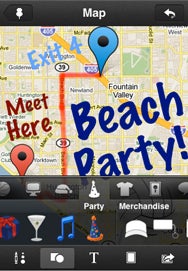 We use our iPhone touchscreens for typing, scrolling, panning, and zooming—but have you ever wondered how cool it would be if you could use your iPhone as a virtual sketch pad? Maybe you haven't, but I bet your three-year-old has.
The folks at LateNiteSoft have updated their drawing app, Sketches, to version 2.0—a complete rewrite with an improved UI, new features, and enhanced support for iPhone OS 3. Sketches 2 turns your iPhone into a mini sketch pad complete with various brush shapes and clipart, which can be handy as well as entertaining—if you ever need to sketch out a simple diagram or scribble out some free-hand notes, for example.
Sketches 2 also features Maps integration, which lets you draw out directions for your friends, and recognizes what device it is running on and will adjust for performance and capabilities accordingly.
Sketches 2 is available at the iTunes Store for the launch price of $2, after which it will raise to $5 (it's a new version, so Sketches 1 owners have to pay too). The original Sketches ( ), now considered an entry-level app, is still available for $1.