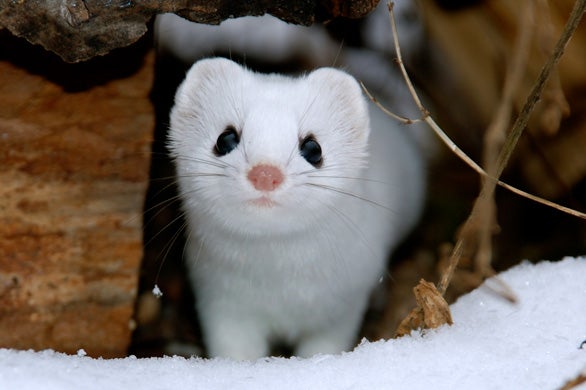 This week's Snapshot is an appropriately seasonal photograph from Kellen Witschen, a high school student from Aurora, MN. The picture was taken with a Nikon D80 at ISO 100, with a shutter speed of 1/60 of a second and an aperture of f/5.6. As we discussed earlier this month, photographing animals in nature requires no small amount of patience. That's doubly hard when being patient means braving the freezing cold.
This particular weasel was snacking on a dead grouse that had run into the window of the photographer's house and fallen into a stack of wood. Kellen took up position in the snow and focused his maxed out 18-135mm lens on the scene. Periodically, the weasel felt safe enough to emerge into the open. Kellen would manage to capture a few frames at a time before the weasel spotted him and darted back into the wood. After 30 minutes in the snow and 5 degree weather Kellen finally had his shot.
"The hardest part of the whole thing was staying outside in the cold that long," says Kellen. We think the result, an impressively sharp image of a curious looking and wet-nosed creature, was worth the chill.
More of Kellen's photographs can be found on his website, https://web.mac.com/kwitschen.
Want to submit your own photo to our Snapshot series? Send the photo (or a link to the photo) and a description of how you got the shot to digitalphoto@macworld.com. Include the text "Snapshot" in the subject line. We'll pick our favorites and feature them on our Website. Chosen photographers will receive a free printed copy of our Digital Photography Superguide.