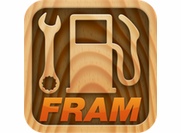 Gas Cubby for the iPhone is an app that tracks fuel mileage and vehicle maintenance. It lets you track as many vehicles as you'd like, create reports complete with graphs, add service reminders as push notifications and e-mail reports as Excel-compatible CSV files. It's a great looking app that handles all the information you need to keep your investment purring away for years to come.
As comprehensive as Gas Cubby is, the greatest hurdle for some customers has been the price. At $7, it's a bit more than the average iPhone app.
Thanks to a partnership with Fortune 100 company Honeywell, developer App Cubby has released a free, sponsored version of its critically acclaimed app. Gas Cubby by Fram is the exact same app as Gas Cubby, except this edition has a banner at the bottom that advertises Fram-branded auto parts. It has no other limitations and no requirement to tap that banner. (This replaces the free Lite version of Gas Cubby.)
App Cubby says the ads were carefully designed to fit in with the iPhone app and to be as non-intrusive as possible. New ads are only ever triggered as a user moves through the app, so you don't have to worry about that happy little Fram banner poking your eyeballs every 30 seconds while you're trying to get things done.
This exclusive advertising deal was made possible through Gas Cubby's success and Honeywell's interest in marketing to iPhone users interested in taking care of their cars. It's a fascinating turn of events for developer App Cubby, whose owner had to sell his car last year to keep the company in business.
The App Store is a very competitive market, but deals like this—if successful—show that it can still be a rewarding place for developers and customers alike.
Gas Cubby by Fram should be appearing on the App Store later on Wednesday.