At a Glance
Expert's Rating
Pros
Attractive, easy-to-navigate onscreen menus
Superior to very good images
Cons
Disappointing remote control
Our Verdict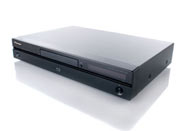 Pioneer's BDP-320 sends gorgeous pictures to an HDTV, but it lacks the Web streaming multimedia capabilities of even lower priced Blu-ray Disc players.
Pop a Blu-ray disc into the BDP-320 and you'll get muted yet beautiful and natural-looking colors, less saturated than those produced by our reference player, a Sony PlayStation 3, but more pleasing to the eye. Skin tones were realistically balanced throughout, and the opening scene of the black-and-white Good Night and Good Luck movie looked gorgeous.
The BDP-320 even did well with DVDs, showing surprising depth (though slightly less detail) in chapter 3 of the Phantom of the Opera DVD than did the PS3.
In fact, the BDP-320 exhibited softer contrast and less detail than the PS3 in most of our tests (other than Good Night and Good Luck). This tendency hurt the image in a dark scene (chapter 20) from The Searchers: The BDP-320 made the low-contrast scene feel comparatively flat and lifeless.
The BDP-320 even outputs a good-looking image before you put in a disc, thanks to its simple, direct onscreen menu design featuring white text on a black background with blue and gray highlighting.
The first time you turn on the BDP-320, a wizard helps you set it up and tests your system to confirm that everything works. The main menu contains straightforward explanations of its options. A Tools button on the remote brings up a smaller menu of items that you're likely to change frequently, such as dynamic range (difference between loud and soft sounds) and subtitles.
One setting in the Tools menu doesn't seem appropriate for that location: Video Adjust lets you tell the player what kind of HDTV you have (PDP, LCD, and so on), so that it can optimize the image. How often are you going to change that?
The BDP-320's remote control has the buttons used for controlling what you watch (Play, Pause, Skip, and so on) set too low; they're also (with the exception of Play) too small and too similarly shaped. As a result, you can easily hit Stop when you mean to hit Pause. The remote isn't backlit, but it is programmable.
The BDP-320 feels like an early Blu-ray player: It's big and sturdy, not slim-line and lightweight like other recent models. Its reaction times are a bit sluggish, too, requiring 1 minute, 22 seconds to start playing the Independence Day Blu-ray disc.
The BDP-320 has an ethernet port and a USB port, but they are strictly for BD-Live. A feature called Home Media Gallery is nowhere near as cool as that name suggests. It displays a list of tracks and/or files on a data disc or audio CD.
Macworld's buying advice
The BDP-320 produces great-looking images, but you can find other Blu-ray players that offer comparable image quality and more features.
[Lincoln Spector is a contributing editor to PC World.]