Whoops. It seems that you've forgotten to buy a holiday gift for your second favorite nephew. Time is running out. What do you do? What DO you do?
Fear not—there's still time to get a gift for him, especially if he (or anything else on your last-minute list) is into home entertainment. Here are some ideas.
iTunes gifts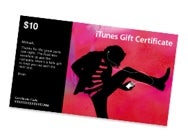 Through iTunes you can e-mail iTunes Store gift certificates in $10, $20, $30, $40, or $50 denominations. You can also purchase iTunes gifts that appear as posts on people's Facebook Walls, set up an iTunes allowance for those too young to have their own credit cards (the gift that keeps on giving), or gift specific holiday-related albums or movies—It's a Wonderful Life or Elf, say.
Netflix gift subscription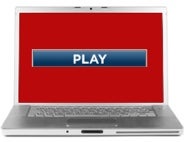 Sure, the iTunes Store offers movie rentals, but it's no substitute for DVD rentals for those you watch a lot of films. A Netflix Gift Subscription is ideal for such people. You can select to give one ($8 a month), two ($14 a month), or three ($17 a month) DVDs at a time, for one, two, three, six, or 12 months. As a bonus, each subscription includes unlimited access to Netflix's Watch Instantly feature—the ability to stream (some) movies and TV shows to a Mac, PC, or Netflix-ready device such as Roku's media players and some HDTVs and Blu-ray players.
iPod shuffle
If you still have time to make it out to a store, you can always pick up an iPod shuffle as a great gift. At $59 (2GB) and $79 (4GB), they're ideal stocking stuffers—a nice introduction to the iPod lineup that says "I care" without breaking the bank.
Wolfgang's Vault gift certificate
Do your giftees enjoy live music? Then how about an electronic gift certificate to the Concert Vault of live recordings from the archives of Bill Graham. They can download shows from many, many bands including jazz performances from Thelonious Monk and Jimmy Smith, psychedelic shows from Jefferson Airplane and the Grateful Dead, blues by B.B. King and Muddy Waters, and much more. Amounts start at $20.
Macworld Digital Music & Video Superguide
What do you get for the person who has everything? A book in PDF form that shows that person how to use his or her iPod, Mac, iPhone, and Apple TV to the fullest when it comes to audio and video. Macworld's $13 Digital Music & Video SuperGuide is 94 pages of PDF goodness to help the multimedia fan in us all.
Amazon gift card
The Amazon MP3 store is a great alternative to the iTunes Store for downloading music. An e-mailed or printed gift card can also be used to buy other things, like DVDs, camcorders, digital cameras, iPods—all depending on your generosity (you can buy cards from $5 to $5000).