Cameras got smaller, photos got mapped, and people started turning their iPhones into image editors: it's time to say goodbye to 2009. If you haven't been following along at home, here are a few photo-related highlights from the past year:
The ISO wars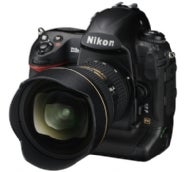 Now that most digital cameras offer at least 8 to 10 megapixels of resolution, camera companies have turn their attention to a new front in the camera wars: ISO. Light sensitivity settings have been on the rise for years now, but in 2009 companies broke new ground. In October, Nikon announced the D3S, a high-end SLR that boasts an ISO range up to ISO 12,800, as well as an enhanced mode that further extends the range to the equivalent of ISO 102,400. A week later, Canon announced the EOS-1D Mark IV, with similar ISO specs.
Of course, the high end of that scale isn't going to give you beautiful photos—it's more about getting the shot in impossible situations; however, the improved performance translates down the ISO scale, too, giving you better shots at ISO settings previously considered a last resort. Unlike some other camera specs that are more about marketing than good photography, better low-light performance is a trend that we can get behind. Here's hoping for more to come in 2010.
Micro Four Thirds family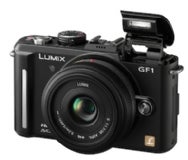 2009 also saw the rise of a new breed of digital camera—the Micro Four Thirds standard. Spearheaded by Olympus and Panasonic, this standard allows for compact camera bodies that also support interchangeable lenses—the best of both worlds for advanced photographers who like to travel light. It accomplishes this by removing the SLR's mirror chamber, and moving the sensor closer to the back of the lens. The lack of a mirror chamber allows for a smaller camera body, while moving the sensor closer to the lens allows for smaller lens design. All of this means that Micro Four Thirds cameras and lenses can be made much smaller than those from a traditional SLR. The cameras also use a larger image sensor than compact cameras, allowing for better low-light performance.
The first models to appear performed well, but weren't all that compact. Then in June 2009, Olympus announced the E-P1 ( ), a retro-styled Micro Four Thirds camera that was significantly smaller than any other camera in its class. (The size reduction was largely aided by the lack of a viewfinder or an onboard flash.) Panasonic followed in September with the Lumix DMC-GF1 ( ), which also lacks a viewfinder but does offer a built-in flash. It's a great little camera. In fact, we liked it so much we gave it an Editor's Choice award.
The Micro Four Thirds family isn't right for everyone. And at the moment the price, somewhat limited lens selection, and technology tradeoffs may keep it a relatively niche product. But it's an exciting category that's worth keeping an eye on.
Geotagging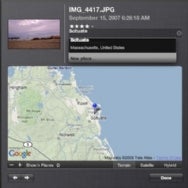 Although not a new concept for adventurous photographers, the release of iPhoto '09 ( ) in January introduced many casual photographers to the world of geotagging, a process that embeds location data into a photo's metadata. iPhoto's Places feature can read longitude and latitude coordinates embedded by GPS-savvy devices, such as the iPhone 3GS, or by third-party software. It also lets you manually add locations after the fact. Once your images are tagged, you can use the geotags to help search your library or to build maps of your travels. In September, Google likewise added a Places feature to the desktop version of its image editing and management software, Picasa 3.5 ( ).
Support for geotagging is great, and opens a world of possibility for how we manage and display our photos. Unfortunately, 2009 wasn't the year that cameras embraced geotagging. Aside from a few notable exceptions, such as the Nikon Coolpix P6000, you'll still need an additional gadget to record geodata on the go. We hope that starts to change in 2010.
The iPhone camera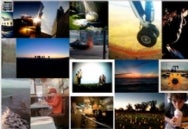 Along with the general explosion of iPhone apps, the year also witnessed a huge surge in photography-related apps. While the iPhone can't compare to a dedicated cameras, it's size makes it the camera you're most likely to have with you when the moment presents itself. And thanks to the release of the iPhone 3GS, which upped the camera resolution to 3 megapixels and added auto-focus, a macro mode, and better low-light performance, those photos are looking better than ever.
A good number of photography apps have caught out attention over the year, including Photoshop.com Mobile ( ), TiltShift Generator, and App Gem award winner Best Camera ( ). Pro photographers also found something to love in the iPhone thanks to photography-resource apps such as DSLR Camera Remote ( ).
But what really caught our attention was the pride you guys felt for your own iPhone photos. After we published an installment of our Snapshot series featuring an iPhone photo taken by professional photographer Chase Jarvis, we were overwhelmed with beautiful and interesting photos taken by fellow readers (see a gallery of our favorites). Keep up the good work.
What's next?
While we don't have a crystal ball laying around the office, we can make a few predictions of what's to come in 2010. Here are just a couple: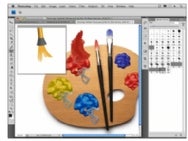 Photoshop CS5 Adobe hasn't announced any details about the next version of Photoshop, but it's expected sometime next year. For those who can't wait, the company is offering a peek at new technologies currently under development. Adobe recently posted a video on Facebook demoing new natural-media painting brushes and a new warp tool. The painting tools aim to compete with Corel's Painter software. The video demonstrates colors being blended naturally on a virtual paint palette and being manipulated by a brush in 3D space to create different strokes. The new warping tools let you apply control points to a flat image—at the subject's joints, for example—and then bend and reposition it in a realistic way. Keep in mind that the video calls the tools "experimental" and doesn't guarantee when they'll appear.
By the way, Photoshop will celebrate it's 20th anniversary in February. What do you get the program that already has it all?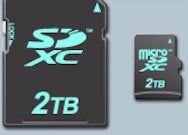 Spacious SD cards In 2009, the SD Association, which manages the SD memory card standard, released the SDXC (eXtended Capacity) card specification. This allows for capacities starting at 32GB and ranging to a theoretical 2TB, and speeds that could theoretically reach 300MB per second. Expect to see SDXC cards with more modest specs—likely in the 64GB range—begin to appear in Spring 2010. (Need help decoding SD card specs? Read our SD Buying Guide.)
What photography news are you hoping for in the new year?