The iPhone 3G has been crowned the most-used mobile phone in the U.S. in a top-ten list recently published by market research-company Nielsen.
With four percent of all users, Apple's device tops a list that includes several competing handsets, including models of RIM's BlackBerry and mobile phones made by LG, Motorola, and Samsung.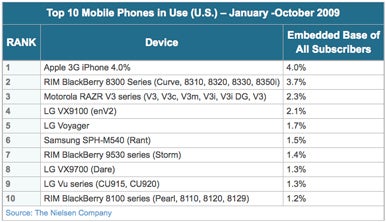 It's unclear whether the list, which is limited to the top ten devices, bunches the iPhone 3GS in with its older cousin, or whether the former simply hasn't managed to gain enough usage to make the list in the first place (which seems to be the most likely possibility, given that the other entries on the list are broken out by product family). The list covers the period between January and October 2009.
Apple makes a surprising second appearance in the same blog post—this time in a top-ten list of brands accessed from mobile phones. Unfortunately, the article is a little short on details, so it's difficult to tell whether the list measures browser access or any kind of network access (which would also include, for example, iTunes and App Store downloads).