Time is running out. You put off shopping for the photographer in your life until dangerously late. Now there's not enough time to have something shipped, and you are far too busy tolerating your relatives and oozing holiday cheer to hit the mall. Instead of resorting to the old "Free Hugs" coupon cop-out, take a look at this handy list. These mostly virtual gifts may be quick and easy to purchase, but they'll feel anything but last minute to the recipient.
Photography Software
Fast Internet connections mean you can skip the bulky software packaging, trips to crowded stores, and exorbitant overnight shipping costs. Purchase Adobe's Photoshop Elements 8 or Lightroom 2 online at Adobe.com and wrap up a printout of the download instructions. If you have an iPhone photographer on your hands, an iTunes gift certificate will let them load up on photography apps in the App Store.
Premium Account Memberships
Web-based photo editing tool Picnik packs a ton of features into its free version. But for photographers who want to do more, there's Picnik Premium. For $24.95 a year, subscribers get an ad-free, feature rich version of Picnik. The premium version adds more editing tools and special effects, an infinite number of undos, full screen editing, and the ability to work with layers. Giving it as a gift is easy too—just click on the Feeling Generous link on the Picnik homepage.
Flickr users might appreciate an upgrade to Flickr Pro, also $24.95, which eliminates ads and gives photographers unlimited storage, access to account statistics, and HD video capabilities. Flickr even provides a lovely, printable gift certificate.
Professional Online Portfolios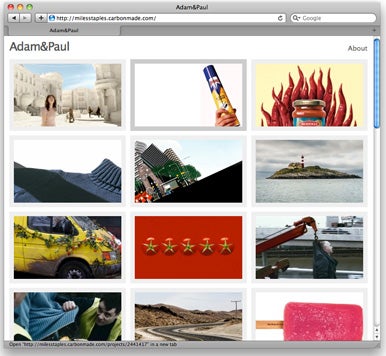 If your giftee is interested in marketing himself or herself as a photographer, there are some excellent sites that host portfolios. The allure of these services is that they combine an ad-free, professional-looking photography website with easy-to-use back-end management features. A photography portfolio on Carbonmade costs $12 a month and holds up to 500 high-resolution images and 10 videos. There's also a free version that allows you to upload 35 images. Moving up the chain you have (much) more expensive online portfolio providers like APhotoFolio ($1,000 to set-up plus $17 a month) and LiveBooks ($1,199 one time fee or $39 a month for a predesigned site).
Books, Physical or Electronic
The savior of last minute holiday shoppers everywhere, local bookstores are filled with great photography books, both instructional and inspirational. Some titles to look out for are Dan Winters: Periodical Photographs by Lynn Hirschberg and Complete Digital Photography, Fifth Edition by Ben Long.
If eking out a trip to the store isn't in your future, consider an ebook. You can get gift certificates from Barnes & Noble and Amazon for Nook and Kindle owners. You should also stop by the Peach Pit Press website and check out their collection of photography books and multi-media products. And of course, our own Digital Photography Superguide is available as a 134 page, downloadable PDF.
Magazine Subscriptions
A magazine subscription is another reliable, last minute gift that keeps on giving. A one-year subscription to PDN (Photo District News) is $65 and includes access to PDNOnline.com, a rich resource of information for working photographers. If your photographer is more hobbyist than professional, you can surprise them with a subscription to Photoshop Elements Techniques magazine ($59 a year). Other good photography magazines include Shutterbug ($41.93 a year), Outdoor Photographer ($14.97 a year), and Aperture ($59.80 a year).
Photo Courses
If you have an art or photography school in your area, check to see what photo classes they're offering for the fall. Your loved one doesn't have to be new to photography to benefit from a course—a creative group atmosphere can inspire even the most veteran of photographers.
Another option is to give them a gift certificate for online photography courses. Lynda.com has classes for beginners (a great companion gift for that new DSLR) as well as classes on specific types of photography like natural light and fill flash portraits. The best lessons are on the latest digital photography software such as iPhoto, Aperture, Lightroom, and Photoshop. Gift subscriptions to Lynda.com start at $25 a month.
Don't Forget the Stocking Stuffers
Goodies like memory cards, lens filters, gift certificates for local print shops, memberships to local zoos or museums (for inspiration), and the always useful external hard drive will all be much appreciated on Christmas morning.