FarmLand is a charming, $2 casual strategy game for the iPhone from iMouse. It looks good, and it's fun to play. The game starts slowly, but in spite of its repetitiveness, becomes an increasingly addictive diversion.
When the game starts, several options are locked away—"Survival Mode" and mini-games are unavailable until you've made some decent progress in the game's Adventure mode. When Adventure mode gets underway, an in-game tutorial explains most of what you'll need to know.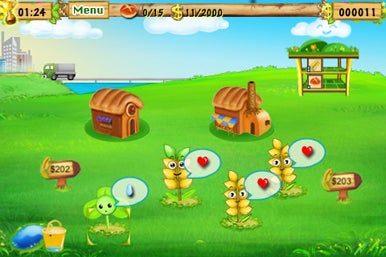 You're a farmer, and you have quotas to meet. You can prepare various spots for planting, plant the actual seeds, harvest the crops, load your truck, and then send it into town to convert your farmed bounty into cold, hard cash. But it's going to take careful planning, of both the financial and timing varieties. It costs money to prep the soil and to plant seeds. Sometimes crops need watering, and that has a small cost, too. And when the crops are mature, you need to harvest them before they wilt away. Of course, your storage space is at a premium, and you may need to buy additional silo storage on occasion. Once your truck is full, you'll need to send it on its way, and it takes some time for it to make the round-trip. If too many crops grow while the truck is away, storage can become a problem. Things get even hairier as you advance through the game. Eventually, you don't just need to grow wheat; you'll need to turn that wheat into bread, or turn grapes into wine—which also takes time.
The game becomes a delicate balance of managing funds and schedules to stay on task. Everything is accomplished with simple taps, and the interface is easy to learn. FarmLand feels kind of Diner Dash in that regard: As the game evolves, you become a jumpy finger tapper, tensely eyeing your stats to see how close you are to making your goal in a good time. It's an interesting combination of "hurry up" as you race the clock, and forced patience while you literally watch the grass grow, or the truck amble back from its delivery.
On occasion, you'll encounter various characters. A worm comes to attack your crops, and essentially must be tapped mercilessly to death to avoid damaging them. A friendlier (and far less annoying) visitor is the fairy, who waters your crops for you if you can't get to them fast enough.
As I mentioned out the outset, the gameplay does get a bit repetitive, but as targets and challenges increase in difficulty, it manages to become more and more addictive. You're able to replay past levels to best your previous times, and with 30-plus levels available, there's plenty of fun to be had here. The mini-games, which you first encounter during Adventure play, are nothing especially memorable, but might appeal to youngsters in need of some brief iPhone-based distraction.
While the sounds effects and background hover somewhere between adequate and annoying, the visuals and gameplay itself are sufficiently cute, and the overall experience is a fun one.
[Old Lex Friedman had a farm, E-I-E-I-O.]