The animated television series Voltron first aired in 1984 and was followed by other television series, specials, and movies. Somehow fans have been denied any kind of Voltron video game until now.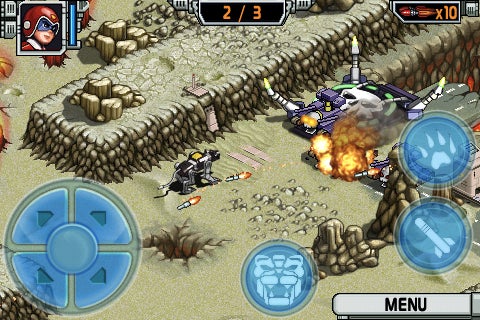 Voltron by Sony Pictures Home Entertainment is an isometric adventure game in which you alternately pilot each of the five mechanical lions on Planet Arus. You battle the forces of the evil King Zarkon using long-range missiles, melee attacks, or the special abilities each lion wields. There is plenty to explore across 30 levels in six acts and with many enemies to defeat. At the end of each act, your lions form the mighty robot Voltron and face off against a Robeast boss. There is also an arena mode where you can practice against Robeasts you've unlocked.
Voltron fans will love the incorporation of video from the original cartoon series. The classic story line, intricate world with beautiful animation, and attention to detail create a superb Voltron universe on the small screen. You command your mechanical lion via an on-screen keypad and action buttons. Movement is a little clunky and the isometric view takes some getting used to. Thee landscape can also get repetitive, and there is no map to guide you. But Facebook integration is included to share your achievements with friends—a welcome social feature for what is a strongly focused single player game.
Voltron doesn't wow with impressive visuals, but the retro graphics and gameplay suit the '80s cartoon series very well. Fans nostalgic for Voltron should definitely give this game a try, and with Facebook integration to advertise your achievements, you might attract new fans to the series.
[James Savage is the host of the RetroMacCast a weekly podcast devoted to older Macintosh computers.]