With 3D Mini Golf Challenge, Digital Chocolate succeeds in bringing a beautiful and entertaining miniature golf game to the iPhone and iPod touch.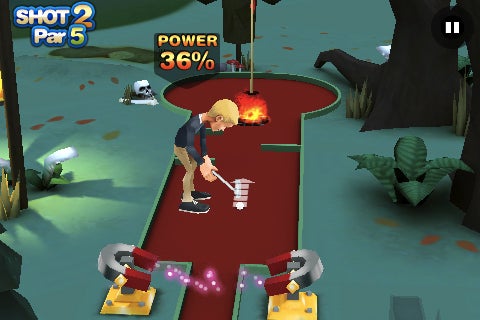 Select either a male or female golfer and begin the first of 100 holes of miniature golf fun. You compete for points at each hole in order to unlock more. Each hole uses one of four different challenges. Par Challenge has you trying for the lowest score. In Time Attack, you have to put the ball in the cup within a time limit. In Hole-in-One you only get points for getting—you guessed it—a hole-in-one. Finally, Versus pits you against an AI opponent.
The beautifully designed 3D environment brings four different themed courses to life. The playful themes include animated obstacles and nice design touches even outside the fairways. Pinch to zoom in on the action and line up your shot with a swipe of your finger. Before each hole, you'll get a quick overview of the course, but unfortunately you can't visualize it later to review the upcoming hazards. If you manage to hit a hazard or go out of bounds, a handy shadow shows the direction and strength of your failed attempt.
3D Mini Golf Challenge manages to bring much of the miniature golf experience to the palm of your hand. Do you take that risky shot or take the safe path? One feature that is missing is multiplayer in either pass-and-play or network play forms. Playing miniature golf for real is very much a social experience and that is the only area where this game comes up short.
[James Savage is the host of the RetroMacCast, a weekly podcast devoted to older Macintosh computers. He loves a game of miniature golf but has never seen fire pits in them.]