Pac-Man Championship Edition is the fourth Pac-Man game brought to the iPhone and iPod touch from Namco after the original Pac-Man, Ms. Pac-Man, and Pac-Man Remix. With Pac-Man CE, you get classic Pac-Man gameplay with loads of levels and plenty of challenge.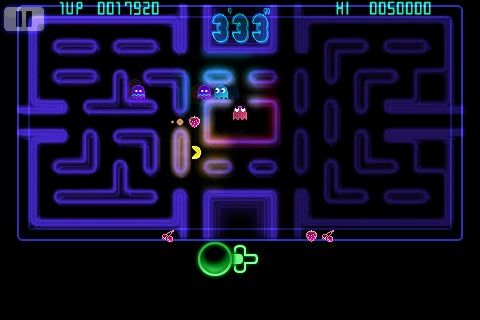 Pac-Man CE should be instantly familiar to most as it resembles the original Pac-Man in design and gameplay. Even the sounds and music are true to the original. Navigate Pac-Man through a series of mazes eating dots, avoiding ghosts and eating them only after gobbling up power pellets.
Pac-Man CE gives you three game modes. In the mission mode, there are 120 levels each with a specific objective to accomplish—like eating a number of fruit within a time limit. The championship mode has you shooting for a high score within a time limit in five different mazes. If you purchase the expansion pack for an additional $4, you receive 100 extra mission levels, ten more championship modes, and a new challenge mode which combines features of the mission and challenge modes.
Touch controls are no substitute for a sturdy joystick, but at least you have four control options from which to choose. Choose a set of directional pads each with four buttons; a single, oversized directional pad; or two different finger swipe control schemes. I found this latter type to be the best since you can use the entire screen to swipe the direction you want to travel and not lose track of button placement. Unfortunately, there is no option for fans of tilt controls. Since some of the control schemes require the placement of buttons on the screen, the game screen isn't free to use the whole iPhone screen. That's too bad because with such a large area dedicated to the controls, the detailed mazes are very small and might be tough on older eyes.
Pac-Man CE has plenty to tackle, but unless you're a big Pac-Man fan, you might find the bulk of the content repetitive. The missions will develop your skill, but they get old as you dissect every detail in the game while being forced to use different control schemes just for the sake of being different. Pac-Man CE is true to the original theme but leaves me wanting other modes (like multiplayer) or features (like social networking integration or global high scores). Still, it certainly provides plenty of value for just a pocket full of quarters.
[James Savage is the host of the RetroMacCast a weekly podcast devoted to older Macintosh computers. He's used to beg his mom for quarters to play Pac-Man in mall arcades.]