At first, Epson's PictureMate Show PM300 compact photo printer looks like a bulky, awkward piece of printing equipment, with an unnecessarily large display screen. Given a few more minutes with it, however, and the ease, speed, and quality at which it prints will make up for its physical design.
Although its ability to function as a photo frame makes the PictureMate Show stand out among other Epson photo printers, its screen poses a bit of a Goldilocks conundrum—it's unnecessarily too big to serve as the printer's photo control panel screen, but it's also too small if it wants to compete with other photo display models on the market.
The setup
The PictureMate Show has a handle, making it easily transportable for printing parties, and comes packaged with photo paper and an ink cartridge that inserts into the back of the printer. Refill bundles that include 150 sheets of photo paper and a spare ink cartridge cost $38. Although there is a Mac driver that needs to be installed, the software does not come with much. After choosing the printer in System Preferences, Epson does not provide any photo editing or viewing software, so you must print photos through applications like iPhoto, Preview, or Adobe Photoshop Elements with a USB connection (cable not included). You can also print directly from the printer using a USB, SD, or CompactFlash source. The printer also has a wireless Bluetooth option that we have not yet tested.
A printer at heart
Aesthetics aside, the PictureMate Show is still a formidable photo printer. It prints good quality 4-by-6 photos quickly and features many internal editing options like borders, wallet prints, cropping, black and white or sepia tone color effects, and red-eye editing. Its ink dries immediately after printing, so you shouldn't have to worry about smudges or staining.
The PictureMate Show has a maximum resolution of 5760 by 1440 dpi, and printing one 4-by-6 takes an average of about 37 seconds. One of the downsides of this product appeared when we wanted to print multiple pictures on one sheet of photo paper. Although this is a viable option, you cannot pick and choose which photos you want; I found that only photos created on the same date must be printed together.
Epson also states that their ink and paper provide long-lasting, durable photos that are water resistant, scratch and smudge proof, and can last up to 96 years under glass before fading.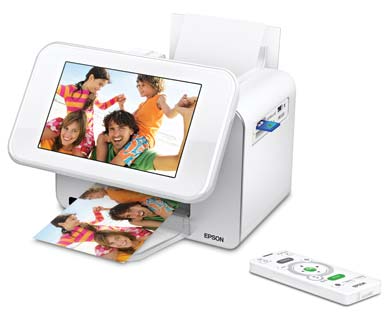 Photo display features
With its 7-inch screen that can tilt to about 45 degrees upward, the PictureMate Show also does double duty as a digital picture frame. The printer contains 270MB of internal memory and has basic slideshow options like cross fading and fade-ins for photo transitions, as well as more elaborate features like displaying your photo in an animated fashion show, museum, or even as part of a larger narrative that include two penguins going on a date and fishing (seriously, we're not kidding).
The PictureMate Show also comes with a wireless remote that can control the slideshow, navigate through the printer's interface, and command the printer to print.
The PictureMate Show is in our lab now and we're putting through our suite of printer tests. We'll have a full review with benchmarks and a mouse rating soon.
[Lynn La is a contributor to Macworld Lab.]