Elgato recently released EyeTV Live 3G, a free Web app that works with the iPhone to stream video content from the EyeTV application on your Mac. With this software combination, you can watch recordings (or even live TV) from EyeTV without having to first convert them to an iPhone-compatible format and upload them to your iPhone. Very nice. Yes, you can do the same thing with the EyeTV iPhone app, but the iPhone app only works over Wi-Fi. As its name implies, EyeTV Live 3G streams over your iPhone's 3G network, as well as Wi-Fi.
The major problem you are likely to have with EyeTV Live 3G is getting it set up. The number of options that must be correctly configured is daunting. Making matters worse, the needed documentation is either hard to find or (in a couple of cases) non-existent. The good news is that, after you have everything properly in place, subsequent attempts to use EyeTV Live 3G will go smoothly. Here is a check list of what you need to do:
EyeTV must be running on your Mac. No surprise here. Update to the latest 3.3 (or later) version.
Your Mac must be connected to a router that supports NAT-PMP or UPnP (as explained here). Fortunately, all recent versions of AirPort Extreme Base Station and AirPort Express meet this requirement.
The Mac's firewall must either be off or set to include EyeTV as an allowed application (as described in this Elgato support document).
From the Sharing section of EyeTV's Preferences, "Share my EyeTV Archive" must be enabled.
From the iPhone section of EyeTV's Preferences (pictured below), the checkboxes for both the "Enable access from EyeTV for iPhone" and "Use My EyeTV" options should be enabled. For the latter option, you will also need an EyeTV account. To create an account, click the Change button in the iPhone Preferences window and then click "Create Account." (Note: you may have already created an account via EyeTV Setup Assistant.) When done, a confirmation that the account is "Working properly" should appear in the EyeTV iPhone Preferences window.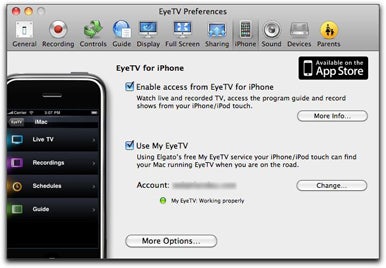 At this point, you are ready to give EyeTV Live 3G a try. The initial screen asks for an e-mail address and password. Here is where you enter the address and password of your EyeTV account. If all goes well, you at last connect and can stream video from the EyeTV application on your Mac.
In my case, all did not go well. Instead, I was unexpectedly presented with a second Secure Website Log In screen, requesting yet another name and password. My EyeTV account info did not work here. Neither did anything else I tried. I was stumped. I contacted Elgato Technical Support for help. They had the (as yet undocumented) answer:
Back at EyeTV's iPhone Preferences screen, there is a "More Options" button at the bottom. If you click it, a screen drops down. It includes an option to "Require a passcode." As it turned out, I had enabled this option back when I first set up the separate EyeTV iPhone app. It was this passcode that the Secure Log In screen was requesting. The required name is "EyeTV."
After entering the correct name and passcode, I successfully navigated past the Secure Log In. However, ultimate success remained elusive. In what appears to be a bug, I remained stuck at the final "Connecting to" stage. The only way I could avoid this was to disable the passcode option altogether—and try to connect again. This time everything worked.
To make accessing EyeTV Live 3G more convenient, I recommend making it a Web clip—by tapping the plus (+) button in Safari, when the page is active, and selecting "Add to Home Screen."