Not to sound pedantic or anything, but the decade that was "the Aughties" doesn't really end on January 1, 2010. The way it's supposed to work is, decades begin with year one and end at year 10. Hence, the new decade really starts on January 1, 2011. But Y2K mania blew up that long held understanding in the popular imagination, so we're being inundated with retrospectives of The Decade That Was right now.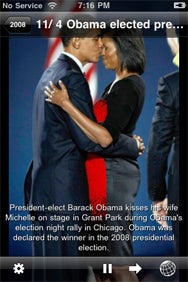 Open Door Networks, makers of the Envi family of photo browsing apps for the iPhone and iPod touch, has contributed Decade Review to the deluge. To scroll through its hundreds of images is to understand why a recent Pew Research Center survey found that most Americans are happy to be done with the decade. Sure, we got iPods, face transplants, and the first African-American president of the United States. We also got 9/11, the financial collapse, and reality television. Bleh.
The app lets you browse dozens of events by year, supports portrait or landscape view, and lets you zoom in and out of images with a tap. Perhaps the cleverest option is the "Ken Burns Effect," which slowly pans over each image. You can even add your own maudlin soundtrack from your iPhone or iPod touch's music library.
Decade Review has some flaws, too. The app's load times and slideshows are often painfully slow. You cannot adjust the slideshow speeds, but you can tap the screen for controls to speed things along. And the image sets themselves vary dramatically in quality and quantity.
So you might marvel at dozens of the Chicago Tribune's excellent photographs and detailed captions of the 2008 presidential campaign. And then you might scratch your head at paucity of pictures from the 2000 Bush v. Gore donnybrook, or the app's "slideshow" of the Patriot Act, which consists of two images from the Onion.
But it's okay. Open Door still has a year to get everything just right.
[Ben Boychuk is a columnist and freelance writer in Rialto, Calif. Feel free to e-mail him.]