At a Glance
Expert's Rating
Pros
Good audio with phantom-powered XLRs
Shoots to SDHC card
Records native QuickTime files with perfect Final Cut Pro integration
Cons
Mic holder too small for professional microphones
Fiddly controls
When switching formats clips, recorded in previous format do not show for playback
Our Verdict
Like many of JVC's professional HD camcorders, the GY-HM100U has a curious blend of highly desirable qualities and idiosyncrasies. Yet there is no doubt this hand-held movie-maker is capable of producing very high-quality footage. Even night shots have deep blacks, little grain or artifacting, and the images look as though they've been produced by a much bigger camera.
The jewel in the GY-HM100U's crown is its high-quality XDCAM EX codec, licensed from Sony. Shooting at 35Mbps variable bit rate, it produces excellent, low-noise images in either 1080 or 720 HD formats. The camera shoots 50i, 60i, 24, and 25p, supports XDCAM EX, and also HDV—but it doesn't shoot standard definition video.
The camcorder has three .25-inch CCD sensors that produce images that look as good (or very close to) those produced by more expensive cameras. While the .25-inch sensors do affect depth of field there are situations when this works well. Furthermore, by using the excellent wide and tele lens attachments available from JVC, you can achieve exaggerated points of view.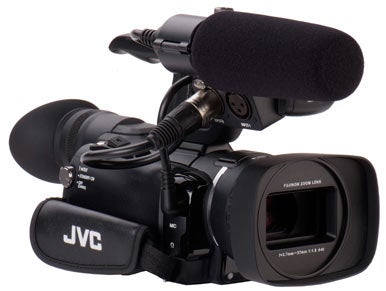 The controls can be fiddly, though once you're at home with the technical operation there's plenty of scope for image manipulation using the manual controls. Shutter speed and exposure changes are handled at the back of the camera, which is inconvenient but workable. A handy global exposure adjust control lets you shoot in auto, while adjusting overall exposure with a switch. Three assignable buttons let you position much-needed tasks easily within reach, and the focus assist lets you use a color reference to show everything that's in focus.
Audio is handled on-board using a detachable handle. The audio is clean and the controls are easy to master, with phantom power provided to twin XLRs.
As impressed as we are, the GY-HM100U needs improvements. First, the microphone holder is too small. JVC has gone for a smaller diameter to most professional mics, which means a larger microphone needs an adapter to fit onto the camcorder.
Our second concern is that when you change from one format to another (for example, shooting 1080i and then switching to 720 25p) the recorded clips on the card only show for the format you're currently set to. Naturally, this could cause you to panic, thinking you've lost footage, but this isn't the case. An indicator labelled Others lets you know the footage is there but not accessible.
The GY-HM100U stores video to SD cards. There are two SD card slots, and if you run out of space on one, the camera automatically switches to the second card.
Macworld buying advice
The GY-HM100U is a one-of-a-kind small professional camcorder with the quality of a much larger model. While it won't replace many of the big models out there, it's ideal for desktop creatives who shoot some of their own material.