While it may be a stretch to characterize 2009 as a banner year for anything, the Mac creative community welcomed a variety of advances: new twists on old products, unexpected innovations, and renewed attention to the rights of content creators.
Software for all
While there's never a lack of complex and expensive products for creative pros, 2009 saw some vendors attempt to even out the scales in favor of hobbyists, while one managed to return to its rightful place in the Mac universe. Witness the revitalization of the much-beloved TypeStyler—the type effects program that had been on hiatus for seven years. Designers may remember the old TypeStyler as a font utility that provided an easy way to twist and distort editable type, and the new version still does that. But TypeStyler's expanded features boost its value for designing packages, creating spinning graphics, and laying out single-page documents.
New Zealand's Ambient Design recently gave a boost to its popular ArtRage lineup: It introduced ArtRage 3 Studio and ArtRage 3 Studio Pro, which add a significant number of high-end options to the company's paint software package. But hobbyists need not worry. Ambient Design will continue to sell, support, and upgrade ArtRage 2.5 so that a larger range of the artistic community can continue to have ArtRage tailored to their skill and price level.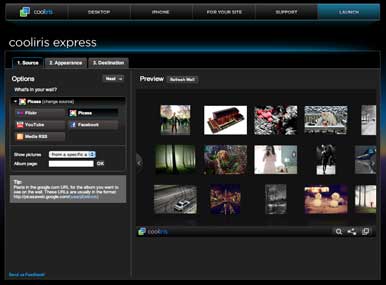 And speaking of complex technology brought to the level we can all enjoy, Cooliris Express, a free online utility now lets folks showcase their photos and videos from Flickr, Picasa, YouTube, and any RSS feed via a dazzling and dynamic 3D interactive wall gallery. You don't have to be Apple to achieve that effect.
Tech twisters
Some products introduced in 2009 seem to morph into unique hybrids. Take graphic tablets, for example. They've been around for a long time, have become easier to use, and do more things. But this year, Wacom gave its revamped Bamboo line a new trick: Multi-touch. So not only can you use the pen and tablet for traditional drawing, painting, and pointing, you can now use it as a gigantic touch pad. Pressing one finger to the tablet lets you move the mouse cursor around; use two fingers to perform gestures such as scrolling, zooming in and out, and moving backwards and forwards in Web browsers, image editors, and other applications.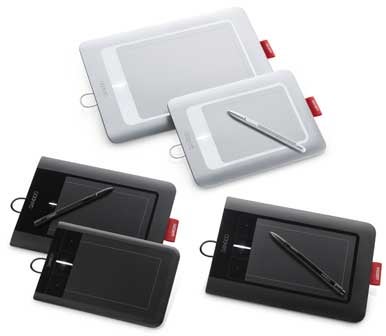 While camcorders still shoot video, 2009 marked the arrival of tiny enclosures and pocket camcorders (even the HD variety), and these hit the streets in a big way. Some popular models: Creative Labs' Genius's G-Shot HD520, Kodak's Zi6, Kodak's Zx1, Pure Digital Technologies' (now owned by Cisco) Flip MinoHD and Flip UltraHD, Sanyo's Xacti VPC-CG10, and Sony's Webbie MHS-PM1.
Other camcorders—larger and more expensive—can now do something else: equipped with a GPS receiver, they can geotag recorded videos and still photos. Sony debuted the first GPS camcorders this year, including the Handycam HDR-TG5V, the HDR-XR520V, the HDR-CX520V, the HDR-XR500V, and the HDR-XR200V. With the GPS receiver and built-in support for Navteq digital maps, location data can be added to video files. You can view maps on a camcorder's LCD as well as find geotagged locations on the map. Sony includes software for Windows, but not the Mac OS; on the Mac, the geotags can use iPhoto '09's Places feature.
This year, Sony also unveiled a 3D movie camera that can shoot 3D images with a single lens. By using a single lens, the camera solves one of the problems associated with current 3D photography: the complicated set-up required for dual lenses. The Sony camera takes a single image and separates it into right and left images that are then recorded by individual image sensors. The light is split using mirrors, not shutters, so the recorded image also appears smoother. This isn't mere science fiction: Both Sony and Panasonic say they plan to launch 3D televisions in 2010, and Sony announced it would also add 3D technology to its PlayStation 3 games console.
Adobe adds
The Adobe team was busy this year, and the highlights for creatives include the following items. First, there was the company's 1.8 billion purchase of Omniture, the Web analytics firm whose technology will eventually enhance future versions of Flash, Dreamweaver, and Acrobat by adding analytical, measurement, and optimization capabilities to those products.
The company also announced a new product called Adobe Story, collaborative script development software for the upcoming version of its Creative Suite, which automatically turns script content into metadata that can be used throughout the digital video workflow. It's designed to simplify production, reduce costs, and streamline operations for camera operators, editors, directors, and others involved in video project development.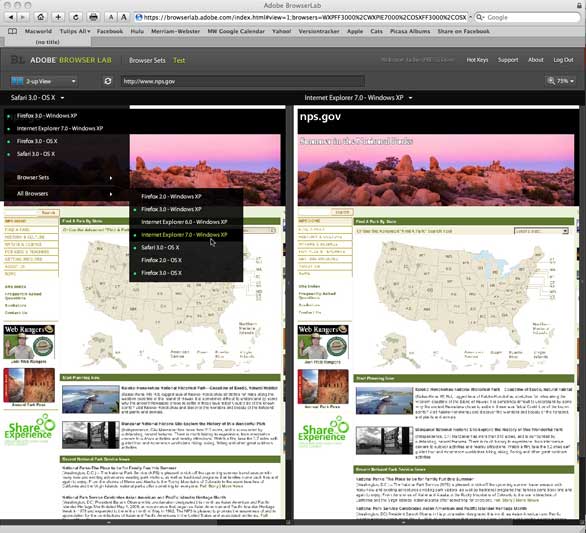 Adobe also released an intriguing product in BrowserLab, a hosted service that lets members view and test their Web sites in browsers they don't have, such as IE 6 or Firefox 2. While any Web designer can use BrowserLab, it has special value for Dreamweaver CS4 users because they can access additional BrowserLab functionality within the program on their desktop.
Finally, there was a parting of the ways on the Mac side that was not unexpected: Adobe said goodbye to the PowerPC Mac, putting the community on notice that upcoming versions of the company's Creative Suite apps would run on Intel Macs only.
Who owns what?
These days, it seems like everyone's a designer or photographer. But that benefit can turn into a liability if no one's protecting the goods, especially on the lower end of the pay scale. Creators want to make sure they're properly paid and credited for their hard work, and designers want to make sure that the material they're using is legally available to them. Microstock companies such as Vivozoom and iStockPhoto took steps this year to protect all clients and customers from legal problems (such as copyright, moral right, trademark, intellectual property, and rights of privacy disputes) by guaranteeing their collections.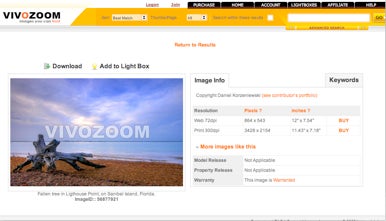 Also this year, Google Images added a function that lets you find photos that are specifically licensed for free, third-party use. However, Google does not guarantee the validity of such licenses, and suggests double checking with the source of any content you want to use.
Up ahead
Look forward to more buzz about HTML 5, the new version of the Web markup language that will eventually replace the current HTML 4. While HTML 5 is now in draft form, with full implementation years away, expect to see the continued adoption of selected HTML 5 features in Safari, Firefox, and Chrome throughout 2010.
We can also expect that when Adobe Creative Suite 5 is released, as expected next year, we'll be seeing iPhone apps written in Flash. Does that mean that Flash will run on the iPhone? No. However, new features in the upcoming Flash CS5 Professional will allow developers to write applications and compile the code to run on the iPhone and iPod touch. The iPhone apps built with Adobe Flash Professional CS5 won't include runtime-interpreted code and would abide by the same approval process as other iPhone apps.