Perhaps you were fortunate enough this morning to find a brand spanking new iPhone or iPod touch under the tree. And doubtlessly, you demonstrated the appropriate level of gratitude to whichever friend/loved one/North Pole denizen was thoughtful enough to give you such a present. Now there's just one more bit of business before you pour that next cup of egg nog and start tapping away to your heart's content.
Just which apps should you put on your newly acquired mobile device? After all, with 100,000 or so mobile applications clamoring for your attention in the App Store, that pretty much rules out the process of trial-and-error.
I think I can be some assistance in helping new iPhone and iPod touch owners get their start with merrily downloading mobile apps. Since the App Store first opened its doors about a year-and-a-half ago, Macworld has published its share of iPhone app reviews, and I've edited nearly all of them. If I haven't used an app personally, I've talked to someone who has, which puts me in a pretty good position for making recommendations on which programs should be filling up your mobile device.
So where to start? You'd be well advised to peruse Macworld's App Gems Awards, which recognizes our 20 favorite apps of 2009. Opinions may vary, of course— Macworld readers certainly have their own thoughts on the best apps—but our list is a pretty good starting point.
That said, loading up an iPhone or an iPod touch is a pretty personalized task that depends heavily on your likes and goals. For example, as great a reference tool as iBird Explorer Plus may be—and we think it's one of the best ones out there—if you're not all that in to bird-watching, that's an app that won't serve you particularly well. (If you are into bird-watching, head directly to the App Store and download this comprehensive reference guide immediately.)
The first thing to consider when looking for apps to put on your newly obtained iPhone or iPod touch, then, is just what do you plan on using your device for? Is it a business tool? A communications device? Just a way to keep yourself amused and diverted when you're standing in line or stuck on an interminable commute? Or some combination of all those things? Once you've settled on that, it's easy to track down apps that will serve your purpose.
Productivity tools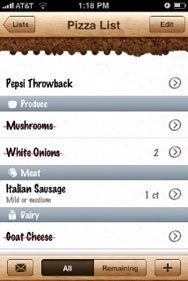 The quickest of glances at the App Store's productivity category will reveal that Apple's online emporium is loaded down with list-makers and to-do managers. Macworld's reviewers were awfully fond of Todo, a pretty powerful task manager that doesn't require you to cite chapter and verse of the Getting Things Done playbook. We're also fans of Toodledo, which offers both flexibility and intuitive controls, and Things, which makes it easy to create to-dos and check them off as you complete them. If you're looking for a more specific kind of list manager, consider Groceries or Grocery Gadget, which both seek to make those trips to the store less aggravating.
A multitude of apps can make sure that wherever you go, your important files will follow. Both FileMagnet and Air Sharing can get files off your Mac and onto your mobile device with relative ease.
Companion apps
Plenty of software developers now offer iPhone apps that work hand-in-glove with their desktop counterparts. If you've got a favorite desktop tool, check to see if there's an iPhone equivalent floating around the App Store. Among the mobile versions of desktop programs that have caught our eye are Bento, the mobile edition of FileMaker's personal database offering; Evernote, a note-capturing tool that ties in to the Web service of the same name; Reunion, which complements the desktop genealogy app; Daylite Touch, which works with the Daylite business organization tool from Marketcircle; and OmniFocus, the mobile version of The Omni Group's Getting Things Done desktop application.
E-readers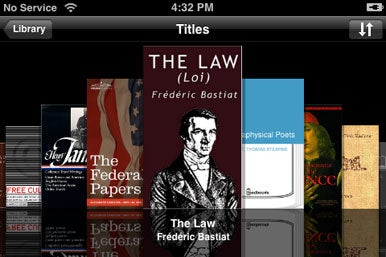 Should one of your particularly crass friends boast about getting an e-book reader this holiday season, don't fret—your iPhone or iPod touch can be a perfectly fine reading tool with the help of some third-party apps. Eucalyptus took home our App Gem award for our favorite e-book app, but we're also quite smitten with Stanza. As for that crass friend who wants to flaunt his Kindle 2 or Kindle DX, simply show him the Kindle for iPhone app; you might also subtly mention that Amazon's mobile app is a free download. (For more on iPhone reading apps, check out Ben Boychuk's overview of e-book apps.)
We can't talk about reading things on the iPhone without also mentioning the terrific Instapaper Pro, which lets you save Web articles for reading later at your leisure.
Navigation tools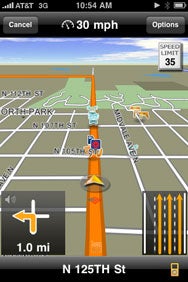 I certainly wouldn't want to step on the toes of my colleague, Glenn Fleishman, who wrote what has to be the definitive round-up of GPS navigation apps for the iPhone. (Spoiler alert: Mobile Navigator North America and AT&T Navigator took the top ratings in Glenn's comparative review.)
If your new iPhone is of the 3G variety, there's no need to be envious of iPhone 3GS owners and their built-in compass app. Compass Go offers a more than credible stand-in.
Then again, if you're more interested in finding out where things are—restaurants, business, and the like—as opposed to where you are, try Where To?. This handy navigation tool for both the iPhone and iPod touch uses the location features of your mobile device to find nearby good and services.
Photo-friendly apps
Remember what I said earlier about the abundance of to-do managers in the App Store? That goes double for photo editing and organization tools. The App Store boasts everything from simple tools for improving your images to sophisticated editing apps.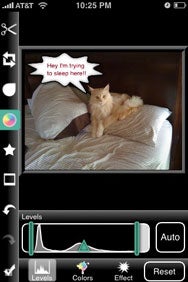 Our App Gem award went to Best Camera, which couples strong image editing capabilities with ways to share your photos with others. We also gave strong consideration to TiltShift Generator, which creates "toy camera" effects on your images, and PhotoForge, an amazingly powerful editor that out-Photoshops Photoshop. You should also consider Photogene, which makes cropping and adjusting your photos a simple process.
If you've got an account with the Flickr photo-sharing service, be sure to download the free Flickr tool. (We're also impressed with the Flickit photo-uploading app.)
Macworld's photo experts have assembled a pair of essential collections for must-have photography apps as well as great mobile tools for assisting photographers.
Fitness helpers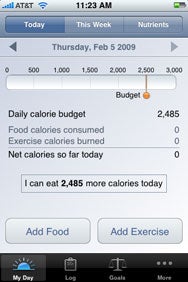 In case your New Year's resolutions include getting fit, you should look at either FitnessBuilder or iFitness. the former offers a database containing thousands of exercises as well as tools for designing your own customized routines; the latter includes simple graphics and instructions for hundreds of exercises.
We're also impressed with Lose It, a great nutrition tracker for logging calories and meals to make sure that you hit all your weight loss goals.
Utilities
I'm of the belief that most of the utilities you'll ever need already come installed on your iPhone. But if you'd like to add to your collection, the smart way to go may be to add apps that contain multiple utilities in one collection— AppBox Pro and iCatchall are your best bets here.
One app that will definitely improve upon what comes with the iPhone and iPod touch is PCalc, which offers advanced functions and useful conversion and constant features. Grab it if you expect your calculation needs to go beyond what the iPhone's built-in tool is capable of.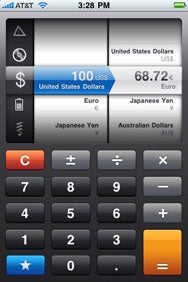 Speaking of conversions, there are a pair of apps that have their share of fans in the Macworld offices. ConvertBot and Convert both feature excellent controls for converting one measurement to another.
Games
We could be here until Martin Luther King Jr. Day discussing games for the iPhone and iPod touch. Apple's devices have proven to be a rich platform for game makers, and there's something in the App Store for every taste—from casual games to puzzles to arcade classics.
Six iPhone games have achieved a rare five-mouse rating—the Castle of Magic adventure game; casual games Drop 7 and Flight Control; Monster Pinball, which features both monsters and pinball; the sports game Homerun Battle 3D; and the insanely challenging Robot Master puzzle game.
Several developers have established themselves as major players on the Mac gaming scene. You'd be well advised to consider games from Ngmoco, Gameloft, and Chillingo all have racked up rave reviews in the past year for their gaming efforts.
That's just one man's advice for getting started with your App Store downloads. I'm sure our readers have their own recommendations on great apps for iPhone and iPod touch newbies.