Ever since I got into this iPhone app reviewing gig, people always put me on the spot by asking me about my favorite obscure application for the iPhone and iPod touch. "And don't pick an obvious one, either," they invariably tell me. "Tell me one I've never heard of."
After mentally resolving to start fibbing about what I do for a living, I usually sing the praises of Arcade QB Pass Attack, a casual game I reviewed about a year ago in what I like to imagine is still the definitive round-up of assorted football-related diversions for the iPhone. The game mimics the sort of football tossing game you might find in an arcade, carnival midway, or Dave And Busters-style eatery. In Pass Attack's two modes—classic and progressive—you use fling footballs into a couple of hoops in a set amount of time, racking up points with each successful toss. It's not particularly complicated, but it is a heck of a lot of fun.
Or at least it was a heck of a lot of fun. Developer Skyworks recently updated Arcade QB Pass Attack. And while the update added some interesting new challenges to the game, it also took a sizable step backward in replayability.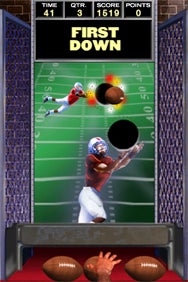 The major change to Pass Attack in the Version 1.3 update affects my favorite of the game's two modes—the progressive one. In this game, you try to—in the words of NFL coach Hank Stram—matriculate the ball down the field, scoring points for successfully completed passes and bonuses for touchdowns. A progressive game features four 60-second quarters for that genuine football feel.
In the original, your targets—two receivers with outstretched hands—stayed in one place. The updated Pass Attack makes them move around the screen—back and forth, to and fro—with your new point totals reflecting just how far away your targets are. It's a nice addition to the game, adding an extra degree of difficulty in case you found the original too easy to master.
So what's the problem? In the process of updating Pass Attack, Skyworks tinkered with the target, which is now much more forgiving than it was in the past. Before, you pretty much had to hit the center of the hole with your football; now, if you throw it slightly under the hole, it will still go in. In fact, the hole will seemingly widen at the bottom, even with the bulk of the football striking the canvas. It takes a lot of the fun out of the game, particularly the classic mode where it's now easy to rack up Joe Montana-level points with JaMarcus Russell-quality passes.
Arcade QB Pass Attack used to be a mainstay of my commute, as I'd play a quick game or two on the way home from work. Since the update, I've barely played at all. Even with the newfound challenges in progressive mode, the step back in realism makes me less enthused about the game.
So where can an iPhone or iPod touch owner turn to for casual football fun? I tried a trio of other apps to see if they could capture my attention the way that the original Arcade QB Pass Attack once did. All three fell short, though in decidedly different ways and by markedly different margins.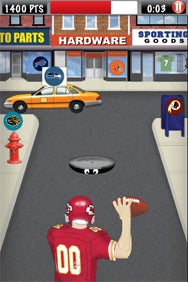 NFL Quarterback Challenge from ProAppSports can boast of being officially licensed by the NFL, and it's offering players the chance to win NFL Pro Bowl tickets and other prizes. That's about the extent of its virtues, however, as the game suffers from bad controls and poor design.
The trouble starts the moment you launch the game, and its hard-rocking soundtrack begins to blare over the title screen. Care to turn off the music? Good luck. ProAppSports placed the very tiny sound controls right next to a link to its Web site. Even when using the tip of my pinky to try and mute the sound, nine times out of ten my apparently meaty paw hit the Web site link instead; the game would quit, the Safari browser would launch, and I would curse a blue streak before starting the process anew.
Obtaining NFL licensing means NFL Quarterback Challenge lets you play sporting the colors and logo of your favorite football team, but the selection screen is poorly designed as well. The screen features a strip of NFL logos sandwiched between two arrows. You would think the arrows would allow you to navigate through the strip of 30 NFL logo—you would think incorrectly. Tapping either arrow selects your team, so get ready to inadvertently don the colors of the Buffalo Bills the first time you play. To actually change the team, you've got to swipe within the strip of logos itself. Each swipe moves the strip one logo at a time, so I hope you're not a fan of any NFC North team, as you've got a lot of swiping ahead of you.
The game itself is essentially a target-shooting game in which you're tossing footballs at various targets festooned with NFL logos. Fair enough—I'm a big fan of the target genre when it's implemented well (as in Toy Story Mania, for example). But in NFL Quarterback Challenge, the controls—you pull back with your finger in the direction you want to throw—are impossible to master. I could pull back at the exact angle for the exact length and not be able to throw an identical pass. NFL Quarterback Challenge features 10 unlockable levels—I gave up after level six. I'm all for challenging games, but when there's a target right in front of me, and my quarterback flails around like a St. Louis Rams reserve, perhaps the controls need a little fine tuning.
But maybe first ProAppSports should look at the physics of the game. When you toss a football, it flies from your hand in a nice, arcing pattern… until it stops. The ball doesn't drop to the ground or bounce around aimlessly—it just disappears like you're playing a game of catch in the Bermuda Triangle. That can lead to some frustrating moments: more than once I thought I had delivered a perfect pass right on target, only to see the ball disappear without striking the target.
One other note about NFL Quarterback Challenge: When you sign up to post your scores online—that's how you qualify for the aforementioned prizes—the game requires you to include a phone number. ProAppSports says this will make it easier to contact the winner of the Pro Bowl trip promptly. Fair enough—the phone number requirement certainly didn't impact my already low opinion of the game, but I mention it here for the benefit of would-be users who might feel more reluctant to give out their personal data.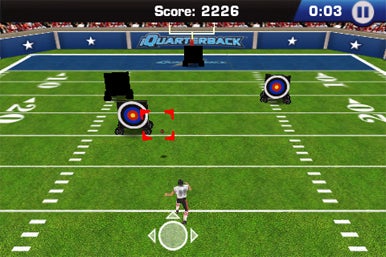 iQuarterback from FuzzyCube Software is another target-shooting game that gets things closer to right. Once again, you're controlling a quarterback who's got to hit targets—in this case, archery bullseyes that zip across the field for 60 seconds. In Accuracy mode, you're aiming at one target at a time. Shoot Out mode features one or two targets, but they're guarded by blacked-out targets—imagine the monolith from 2001: A Space Odyssey if it had been recruited by a Big 12 school as a defensive back. You score points for hitting targets, with more points awarded for getting closer to the bullseye or for hitting targets far downfield.
The control scheme in iQuarterback makes more sense than NFL Quarterback Challenge's muddled directions. In iQuarterback you place your finger on a button and use arrows to move a square target box to where you think the targets will be when your pass arrives; lift up your finger to throw. I found myself dragging my finger across the screen to where I wanted to throw the ball, which blocks your view of the moving targets, but I think that's my failing and not the game's.
iQuarterback is pretty simple, but that doesn't make it any less fun. Nailing targets for 60 seconds at a sitting turns out to be an enjoyable way to blow off steam. I wish there were ways to challenge friends to target practice other than comparing scores via OpenFeint. And the game ends rather abruptly when those 60 seconds are up—because your finger is already on the screen, you'll sometimes wind up starting a new game before seeing your final score in the just-complete round. All that said, when I have a few minutes to kill I find myself launching iQuarterback more often than not.
Now if the game would only launch consistently. Version 2.0 of iQuarterback stutters and freezes like a rookie quarterback staring down a charging linebacker. The game frequently crashes upon launch. Other times, it will pause for a few seconds—this is particularly maddening in the middle of games, as your subsequent pass will fly badly off target. If FuzzyCube could eliminate the crashes and unexpected pauses, we'd have a worthwhile casual game for football fans. As it stands, the game is enjoyable enough if you're willing to put up with iQuarterback's annoyances.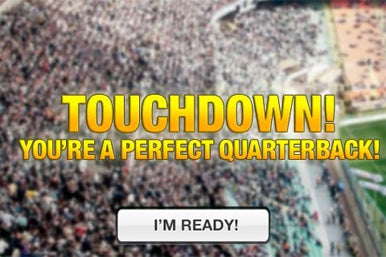 During my search for a good football tossing game, I also downloaded Quarterback Football Throw from LOLRiffic Stuff. It's not really a game (though, in fairness, its developer never claims that it is), but more of a sound effect app. Tap the I'm Ready button, and you'll hear a quarterback calling out signals. When he shouts hike, you've got a few seconds to make a throwing motion with your iPhone. Do it in time, and a voice shouts "Touchdown!" Hesitate, and you'll hear the sound of tackling as the screen will tell you to throw faster. In either case, the I'm Ready button will pop up again so the… um… fun can continue.
The only people likely to be amused by this for more than a few seconds are the ones who will probably wind up inadvertently tossing their iPhone through the air. While Quarterback Football Throw delivers what it promises, it doesn't promise very much that's useful or entertaining. All it does is add to the App Store's clutter. Avoid it at all costs.
[What position did Macworld.com executive editor Philip Michaels play in his football days? Prone, usually.]