When I mentioned to a friend of mine that I was testing Order Pizza—a free app from Order Mapper that lets you punch in a pizza order and send it off to your local pizzeria without ever having to speak to a soul—it is safe to say that he was less than enthused about the idea. "If only there was a function on your iPhone," my friend said, "that allowed you to place a call and speak out your order to the human being on the other end of the line." He may well have a point.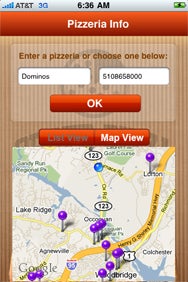 But then again, there are plenty of moments when an app like Order Pizza would be a tremendous help. What if you're in an area with bad voice reception? What if you don't feel like being put on hold when all you want to do is place an order? What if—and I know this is unthinkable—but what if you own an iPod touch? Suddenly, an app that lets you tap in a pizza order doesn't sound like something that would only be of interest to eccentric weirdos and reclusive shut-ins.
Here's how Order Pizza goes about its business. The first time you launch it, the app requires you to enter your name, address, and phone number; it will use this information to track your orders and you only have to enter it the one time. You'll also need to create a personal ID number, which you'll use each time you place an order with the app.
Order Pizza pulls up a list of nearby pizza restaurants using the iPhone's location awareness features. Most of those places will be chains, though the recent 1.2 update has added to the number of pizzerias listed in the app. (Another nice addition in version 1.2 is a Google Map view that shows where restaurants are relative to your location.) Your favorite pizza parlor not listed? Just enter the name and phone number and you're good to go.
At this point, you simply select your pizza size, toppings, and whether your order is delivery or pick-up. From there, Order Pizza places your order with the designated pizza parlor. If the order is accepted—more on this in a moment—you'll receive a push notification on your iPhone or iPod touch.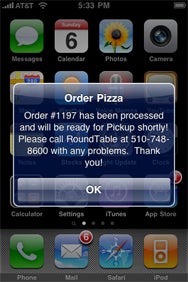 I placed a couple different orders using Order Pizza—one was accepted, while another was not. (My local Domino's Pizza uses an automated answering service, which I suspected confounded the technology Order Pizza uses to electronically place your order.) While I certainly appreciated receiving a notification from the app when my order was successfully placed at the one eatery, I would have also liked to be specifically told that an order had failed to go through. Or to put it another way, I wasn't sure how long to wait before it became clear that my Order Pizza attempt had failed. Five minutes? Ten minutes? Adding a notification for failed attempts to go alongside the notifications for successful orders would make for a more complete app.
Even after Order Pizza successfully placed a pick-up order, I still got a phone call from the pizzeria to confirm the order. Again, this is most likely a quirk of my hometown—the pizzeria in question has two locations in my city with one phone number for placing orders, and the clerk wanted to confirm where I was picking up my pizza.
That phone call turned out to be a lucky one for me, though. When placing my order, I used Order Pizza to approximate my favorite combo pizza at this particular restaurant—pepperoni, sausage, green pepper, onion, mushroom, and olive. However, the restaurant did not interpret Order Pizza's electronic order as a combination pizza; rather, it took the order as a single one-topping pizza with five additional topping requests. Thus, my combo pizza, which normally runs $17, was going to cost me $26. That's a heck of a premium to pay just to be able to order pizzas electronically from my iPhone. The lesson here is that if your tastes run toward the exotic—specialty pizzas, specific combinations of toppings—Order Pizza may not be your best bet.
I'm impressed with the technology behind the app—when Order Pizza works, it's a thing of beauty. But for the kind of specialty pizzas I enjoy, the app doesn't deliver as it should. If you prefer pizzas with single or limited toppings from pizza parlors willing to accept Order Pizza's electronic instructions, this is a fine app to have. If not, here's hoping that Order Mapper adds a few more options to Order Pizza's menu.
[Macworld.com executive editor Philip Michaels has never gotten the appeal of the ham-pineapple combination and probably never will.]