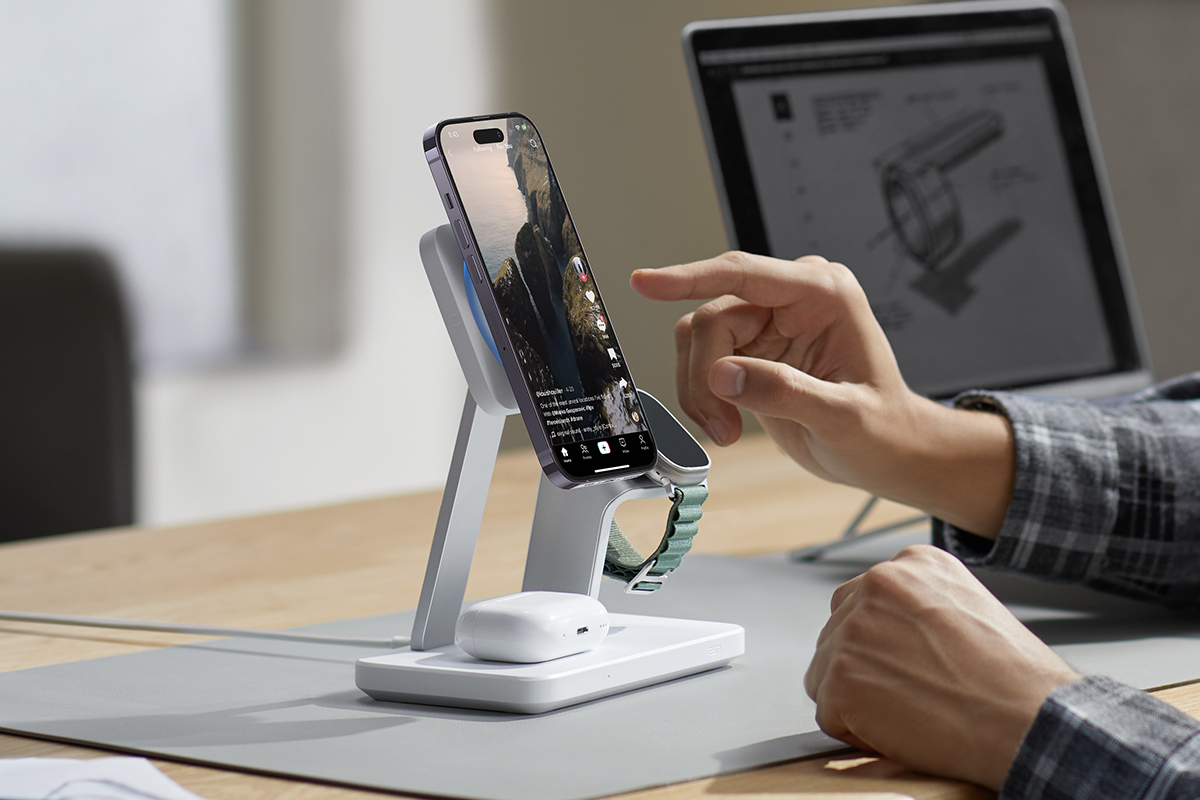 ESR
How MagSafe makes iPhone ownership easier
Apple's MagSafe wireless charging technology is beneficial for anyone who owns a recent model of iPhone (including the iPhone 15) or pair of AirPods. Here's why.
Convenience
MagSafe is both wireless and magnetic, which means it's quick and easy to connect. Unlike most wireless chargers, a MagSafe accessory magnetically 'pulls' the device into the best charging position so there's no need to worry about hitting the sweet spot.
Reliability
MagSafe is Apple's own proprietary charging standard, so there's no worry about compatibility: Apple clearly indicates which of its devices work with the standard. (Put simply, all the 12-, 13-, 14- and 15-series iPhones support MagSafe. So do the 2022 AirPods Pro, while the 2021 AirPods are available with a MagSafe charging case.) It can also be depended on to work reliably and efficiently.
Speed
MagSafe offers 15W fast charging so your devices will be topped up quickly.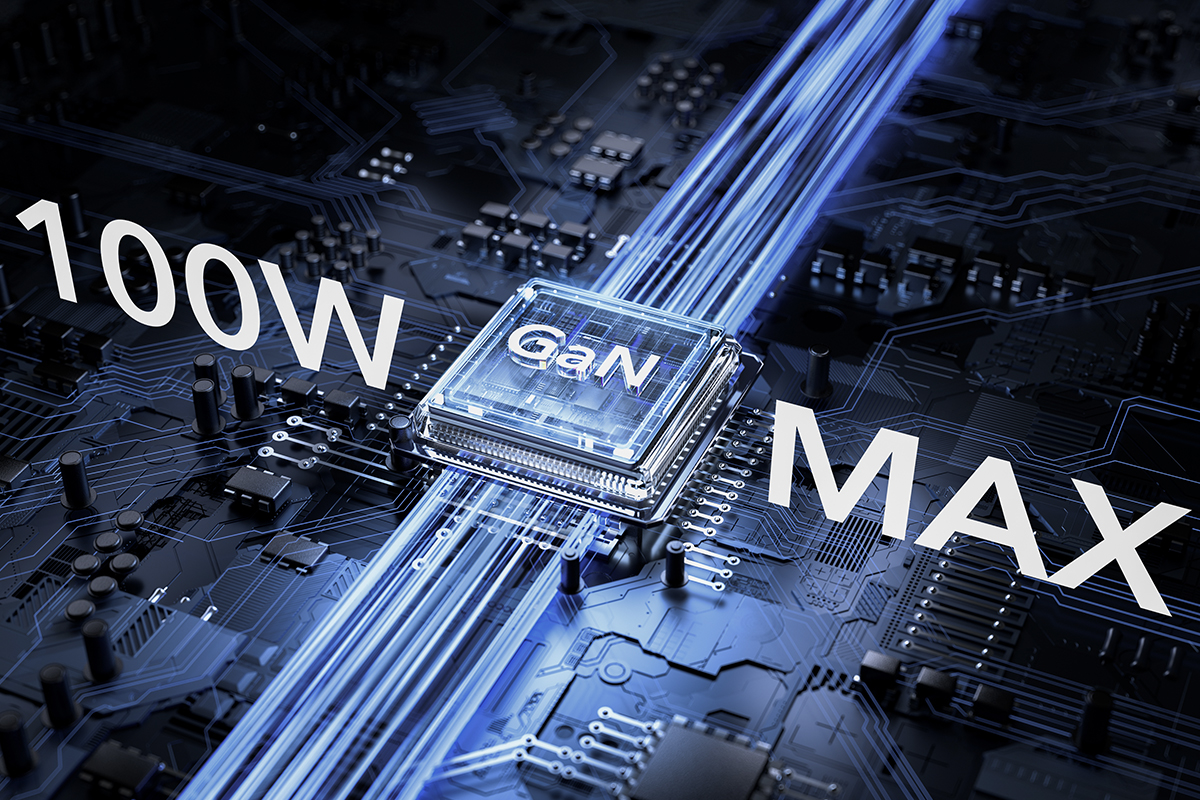 ESR
Which MagSafe accessories are best?
The latest range of ESR charging accessories are a great choice, bringing you the very best of MagSafe charging performance. Here are the specific advantages of these products.
Charging speed
Independent testing consistently shows that ESR accessories charge Apple devices, even when in use, faster than rival third-party accessories. The firm's MagSafe car charger, for example, took just 125 minutes in testing to completely charge an iPhone 14 Pro while using navigation apps, whereas rival models took two and a half times as long, or were unable to charge the device to full power. ESR chargers are able to offer this exceptional speed through their high power ratings and the incorporation of proprietary CryoBoost cooling technology.
CryoBoost
Tech products heat up when charging at 15W, particularly if running apps at the same time. Ordinary 15W MagSafe chargers have to throttle their power output to avoid overheating, but the latest generation of ESR chargers have built-in fans to avoid these issues. A constant flow of cooling air ensures charging can be maintained at maximum speed without overheating.
Certification
ESR's new chargers have received Apple's full Made for MagSafe certification. (Similarly, the company's new Apple Watch chargers have Made For Apple Watch certification.) This means you can depend on them working optimally with a range of Apple products, including the new iPhone 15 range.
Versatility
ESR offers hybrid charging units that can charge more than one kind of Apple device at the same time: not just iPhones and AirPods, but Apple Watches, MacBooks and iPads as well. You don't need to buy multiple chargers, or wait patiently for one device to finish charging so you can charge another.
Value for money
ESR's accessories are designed to provide a quality user experience without breaking the bank.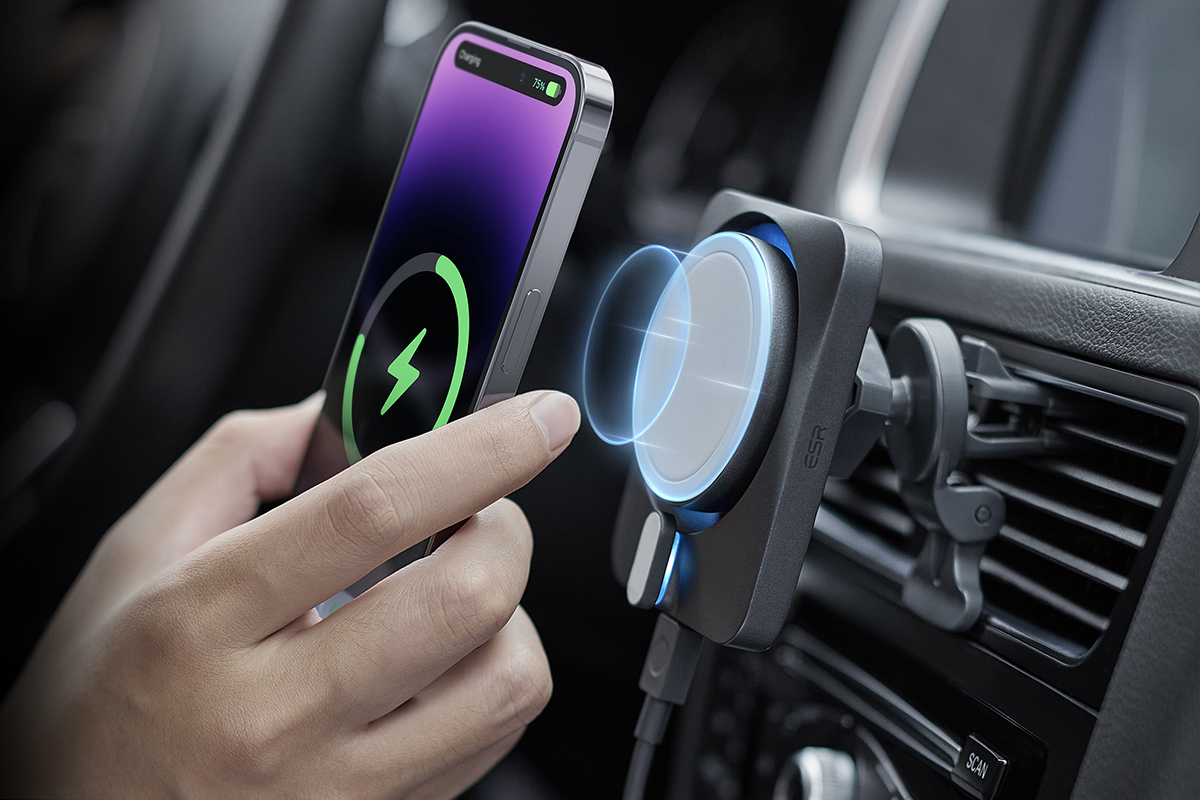 ESR
Which ESR MagSafe accessory should you pick?
25W 3-in-1 Wireless Charger with MagSafe + CryoBoost
A versatile charging unit that can fast-charge an iPhone, an Apple Watch, and a set of AirPods at the same time. A sleep-friendly dark mode ensures lights are turned off during the night, while magnetic attachments hold the three devices firmly and safely. Finally, it works in portrait or landscape orientation, making it ideal for use with the iPhone's new StandBy display mode. This costs $119.99 and Amazon sales start on August 3.
15W Car Charger with MagSafe + CryoBoost
A convenient MagSafe charger for the car, with a strong magnet making it easy to attach your iPhone to the charger. This is priced at $105.99 and Amazon sales start on August 3.
100W 6-in-1 Charging Station with MagSafe + CryoBoost
The complete charging solution: this can charge your iPhone, Apple Watch, AirPods, MacBook, iPad, and Magic Trackpad. The CryoBoost cooling feature means overheating won't be a problem, and GaN-powered fast charging ensures the devices will be topped up quickly. Pre-orders start from July 18 on Kickstarter, with super early bird pricing from $143.
You can even save money!
Macworld readers can get a handy 10% discount off ESR's new 15W Car Charger with MagSafe + CryoBoost and 25W 3-in-1 Wireless Charger with MagSafe + CryoBoost by using the code ESRPR10OFF. This code expires on 30 November 2023. Don't miss out on this bargain offer!