Twin Blades is an anime-influenced hack-and-slash game developed by Bulkypix. You play as a heavily armed (and somewhat stylized) battle nun who must confront the undead. In three different areas recycled level after level, you'll need to level-up, slay, and shoot your way through hordes of the undead.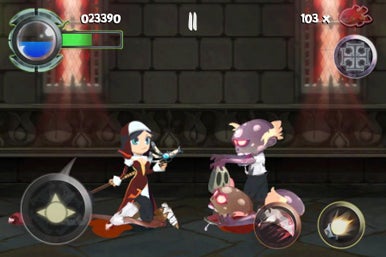 You can dispatch your foes either with the use of your scythe or your gun. You'll encounter a handful of zombie types (ranging from mummy-zombies to zombies with makeshift armor) who become increasingly resilient as the levels progress. Your initial slash and pistol attacks are enough to dispatch a standard zombie in a single strike, though gun attacks will drain your energy meter and slash attacks will replenish it. For every zombie you kill, you gain a zombie "heart," the game's version of currency. At the end of each "Day," you can trade in your zombie hearts for upgrades to your health, weapons, and energy meter.
While the upgrades will make it easier to kill your foes—I especially enjoyed the flamethrower and aerial attack upgrades—the weapons themselves don't change. Your character will hold the same pistol they did on the first level, only this time the zombies will be engulfed in flames or ice or magical light. The lack of change speaks to the game's low budget.
Your attacks are also frustratingly limited. You can jump, jump attack, slash, and shoot. The touchpad joystick is surprisingly sensitive, and you'll often find yourself jumping backwards to avoid enemies that are attacking from both directions.
Twin Blades looks pretty, but I'd compare the gaming experience to viewing a somewhat interactive anime commercial. It's beautiful, it's short, and those backgrounds are gorgeous but sadly stagnant. You'll run through the same environments again and again while facing the same enemies with only minor changes in gameplay thanks to the upgrades. After playing through the first level, you've pretty much seen all this game has to offer. There isn't multiplayer or a boss battle to be had. OpenFeint provides a way to share your scores, but that's a paltry offering of features.
[Assistant editor Chris Holt is always ready to rumble.]