What does Dow Jones's financial wire service, MarketWatch, have that competitor Bloomberg doesn't have? After all, both offer up-to-the-minute market news, analysis and data, with searchable stock quotes. On the iPhone and iPod touch, both have easy to navigate screens with extensive coverage of the day's events on Wall Street and at stock and mercantile exchanges around the globe.
The MarketWatch app displays the day's top stories, and a ticker at the top of the screen rotates through the Dow Jones Industrial Average, NASDAQ and S&P 500. The menu at the bottom of the screen lets you browse through tech news, latest stories, markets and the ever-popular "more."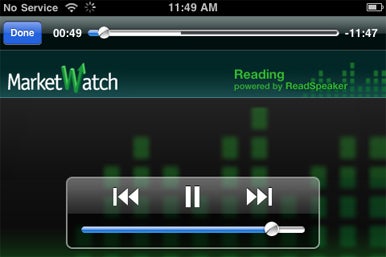 The app is highly customizable. Users can set up market watch lists; set how often they want the app to update its feeds (from as often as every 15 minutes to as little as every 12 hours); and save podcasts for later. You can also choose to view and archive stories up to a week old, and you can adjust the typeface to as large or as little as you like. And the app comes with the increasingly standard social networking accoutrements, including the ability to share stories on Twitter.
But what really sets MarketWatch apart is the app's "Cruise Control" feature. Similar to the service offered by BuzzVoice Talks, Cruise Control lets readers click on headlines to hear complete stories read by a voice that's almost lifelike. You can listen to that day's financial news in depth in the car, on the train or at your cubicle. The downside is the feature—and the app—won't work without a Wi-Fi, 3G, or EDGE connection.
[Ben Boychuk is a columnist and freelance writer in Rialto, Calif. Feel free to e-mail him.]