Ah, New York… the city that never sleeps. The town so nice they named it twice. The metropolitan area where, according to a report on Consumerist, you can't buy an iPhone from AT&T.
OK, so that last one doesn't exactly roll off the tongue, but it's apparently the case. Consumerist reported over the weekend that AT&T has quietly stopped selling the iPhone to customers in the New York area via its Website. Specifically, Consumerist found that while the phone was available to AT&T customers in San Francisco and other major cities, customers in New York City and suburban zip codes in New York's Westchester County and Northern New Jersey were told by AT&T's Website that the iPhone was not available in their area. Consumerist subsequently checked with a customer service rep via an online chat and was told that "the phone is not offered… because New York is not ready for the iPhone. You don't have enough towers to handle the phone."
We did some checking of our own and confirmed Consumerist's original report. You can't buy the iPhone from AT&T's Website if you use a New York City zip code, as the screenshot below indicates. We also put in a call to AT&T to find out why the company was no longer offering the iPhone in the Big Apple.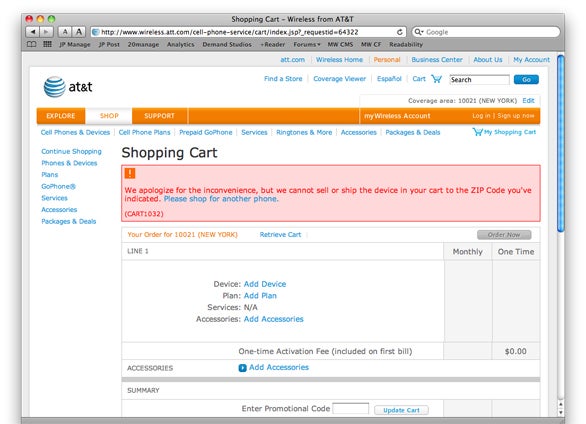 "We periodicially modify our promotions and distribution channels," Mark Siegel, AT&T Mobility's executive director of media relations, told us.
To be clear, Manhattanites have other avenues for getting their hands on an iPhone if they so desire. Both the Soho and Fifth Avenue Apple Stores reported that the iPhone 3G and 3GS models were in stock when I called them Monday morning. Still, it's a bit curious that Apple's exclusive U.S. carrier would put the brakes on selling iPhones, especially around the tail end of the holiday season.
Update: As of Monday afternoon, the iPhone is back on sale to New Yorkers via AT&T's Website. We've posted a brief update elsewhere at Macworld.com.