Those old Polaroid instant photographs have a lot of fun things going for them—the anticipation as you shake the photo waiting for it to develop; jotting notes on the bottom white border; the classic low-fi look of the final product. A number of programs in the App Store help recreate this experience on your iPhone; one of them is Nick Campbell's ShakeItPhoto. The $1 instant photo simulator does well at recreating this experience in some areas, while missing the mark in others.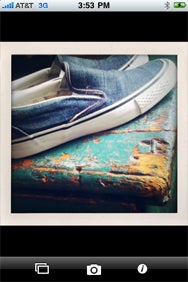 ShakeItPhoto is a very simple app, as something like this should be. When you launch the app, the camera immediately takes over and prompts you to take a shot. (You can also hit the cancel button and select an image from your cameraroll.)
Once you take (or select) a photo, the image immediately "slides" down from the top of the screen, and makes the familiar sound of a Polaroid instant photo ejecting. The image then goes through a virtual "developing" process where it slowly reveals itself. You can expedite this process by shaking your phone, which moves the image on the screen. The sound and the shaking action make for a fun re-creation of the original Polaroid instant experience (and one I imagine young kids will especially like). Unfortunately, it seems like it's a little too cute for its own good.
No matter what app I'm using to edit photos on the iPhone, the end result is always the most important thing. If it's fun along the way, that's a bonus. Any Polaroid-like app I use on the iPhone needs to give me two final results—it needs to insert my photo in the classic instant-photo frame, and it needs to give the image an instant photo look. ShakeItPhoto doesn't do either of these in the manor that I expect.
While the app does frame the photo, it does so uniformly on all sides, not with the thick border on the bottom that you're traditionally used to. And while ShakeItPhoto does process and adjust the look of the original image, it's not nearly enough, especially compared to some of the results that are seen by competitive apps.
At the end of the day, ShakeItPhoto seems to focus more on the process of taking the photo, and the fun that can be had in watching it develop as you shake it. If this is what you're looking for, you won't be disappointed. If you're more concerned with having a more authentic looking image at the end, you may be better with another app.
[Macworld contributor Beau Colburn lives in Boston and posts iPhone photos on his site Snap Different.]