There's no shortage of flashcard apps in the App Store—even the broadest of searches turns up dozens of possibilities. Notecards, from Digital Assertion, offers a lean solution for carrying around your study cards with an easy-to-use desktop companion app for getting your study materials to your device.
There are no sample stacks included, so you'll have to make some to get the app going. Creating your own cards is straightforward, as long as you are proficient at typing on the iPhone. Enter your question on the front, flip the card, and input the answer on the back. Simple, but tedious if you happen to be entering hundreds of questions for the SATs or something.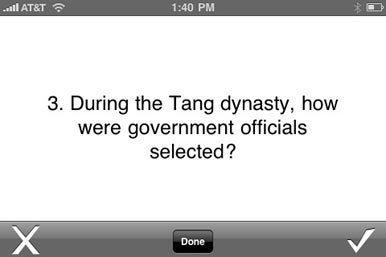 Enter the Notecards desktop application which makes creating and importing notes a breeze. With the desktop app, you can type (or copy and paste) your card information on your computer and easily export over a local Wi-Fi network. In fact, anybody using Notecards on an iPhone or iPod touch can receive your cards, which could be a real plus for teachers looking to export to a class of users, or students looking to share. The addition of the desktop app to the equation really improves the experience—for Mac OS X users. There's no Windows version of the desktop app.
Notecards has no fancy menus, categories, or flashy distractions—just your cards for studying. This also means no importing images into your notes, so those looking to study for Art History 101 might look elsewhere. Keeping the simple setup leaves something to be desired if you are looking for an organizational tool to track lots of notes, but for basic self quiz and review, Notecards is enough. For an even more slimmed-down approach, the free Notecards Lite limits you to syncing 10 cards per stack from the desktop application.
[ Jeff Phillips is an educator, photographer and technology advocate. Find him on his blog or podcast.]