If there's one thing that 2009 will be remembered for in the annals of Apple-related gaming, it's the year that the iPod touch (and the iPhone) clearly eclipsed the Mac as Apple's dominant gaming platform.
Certainly the seeds were sown in 2008, when iPhone OS gaming took off like a rocket thanks to the efforts of many developers. But by 2009, iPod touch customers were buying devices in droves—Apple says that the touch makes up 40 percent of the mobile devices running the iPhone OS—and Apple responded by beefing the system up with better performance and more marketing to help get the word out that the iPhone and iPod touch were really fun game systems, too.
And that's reflected in this year's inductees into our Game Hall of Fame, our annual opportunity to heap praise upon the stand-out games of this past year. Each year, we enshrine the best of the best in our mythical Hall of Fame located in Pittsfield, Mass., and this year, we're recognizing the mobile market's influence, by dedicating half of this year's Hall of Fame winners to what we think are the best of the bunch for the iPhone and iPod touch, too.
But first, the top Mac games of 2009…
Warhammer Online: Age of Reckoning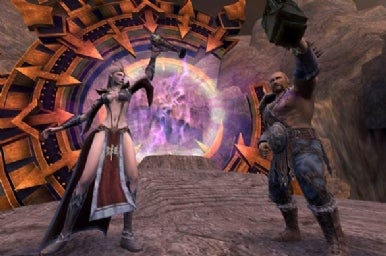 TransGaming has dominated the Mac game scene since the introduction of its Cider translation layer technology, which helps speed the conversion of Windows games to the Mac. One of Cider's best uses in 2009 was Warhammer Online: Age of Reckoning ( ), a massively multiplayer online (MMO) role-playing game based on the popular tabletop wargame, set in a fantasy world populated by humans, orcs, dwarves and other beings. In this $20 game (with monthly fees starting at $15 a month), you choose the forces of Order or Chaos as you participate in sometimes jaw-droppingly awesome battles in a constantly-changing online environment with other Mac and PC gamers.
Plants vs. Zombies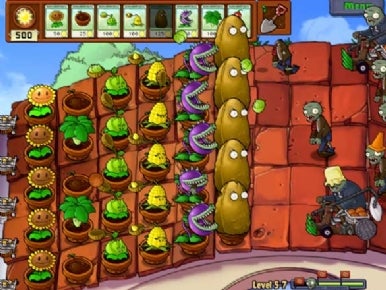 The tower defense genre of strategy games has already seen an immense number of permutations almost to the point of being cliché. Fortunately, PopCap managed to breathe new life into it in 2009—ironically using the undead—with the release of the $20 Plants vs. Zombies ( ), a charming and hilariously funny casual game you can buy in a box or as a download. Hordes of zombies are on the rampage, but you can repel them using a menagerie of unusual vegetation which you plant in your front yard—pea shooters, mushrooms, giant man-eating things that look like Audrey II from "Little Shop of Horrors." The artwork is zany, the game's guide, Crazy Dave, will keep you in stitches, and 20 mini-games, 20 puzzle missions and 11 survival modes will keep you busy.
Braid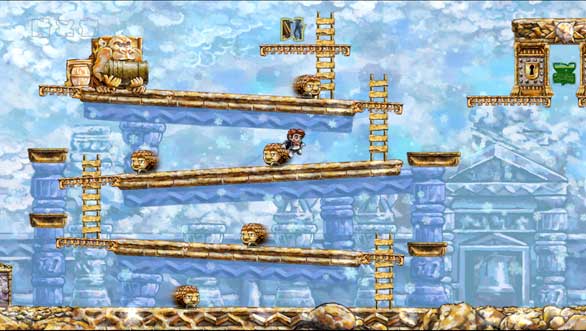 The basic mechanics of Braid ( ) are squarely in the conventional platform realm, a la Super Mario Bros. You guide your protagonist Tim through obstacles, collecting puzzle pieces and rescuing a princess. But Braid's developer has put the genre on its head by giving Tim the ability to manipulate time itself. This lets you solve otherwise unwinnable puzzle, such as jumping into a pit you can't escape from to get a key, then reversing time to get out of the pit (while still holding the key). Sometimes brutally difficult, the $15 Braid is also beautiful and unique, and definitely worth checking out.
EVE Online: Apocrypha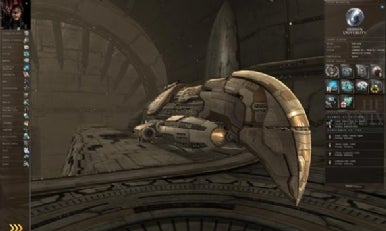 Perhaps it's an indication of just how fast developer CCP Games moves that as I write this, EVE Online has already moved to another major expansion pack, Dominion. But EVE Online: Apocrypha ( ) is worthy of recognition for trying to bring a new generation of players into this excellent MMO. Most MMOs are set in sword-and-sorcery fantasy worlds, but not EVE, which lets you pilot a spaceship. Most MMOs focus on level-grinding and questing, but not EVE, which is the ultimate "sandbox" experience, letting you do pretty much anything you want, from being a pirate to a fleet captain, industrial magnate, market trader, or anything else you want. Apocrypha changed the game in several important ways, adding new "Tech III" ships and wormholes, expanding the game for experienced players, while introducing the foundation of a "New Player Experience" that CCP continues to refine to help newbies get eased slowly into the game. EVE is famously hostile to new players with a learning curve that's been likened to a cliff wall, so revamping the game for noobs is a welcome change.
Bioshock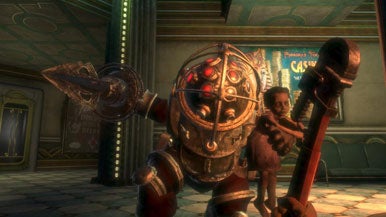 If you own a video game console or a PC, chances are you've already played Bioshock. If not, well, you're in for a treat, and that's why the $50 Mac version of Bioshock ( ) makes this year's Game Hall of Fame. A steampunk, art deco nightmare set in an underwater city fashioned by a megalomaniac with Ayn Rand-style leanings, Bioshock is an unsettling first-person shooter that will alternately shock and horrify you with its dystopian vision and with its subject matter, and a plot twist worthy of the best Hollywood thriller. Feral also deserves kudos for doing a top-notch native Mac conversion that will run great even on the Mac mini and MacBook.
And now for our mobile Hall of Fame inductees…
Flight Control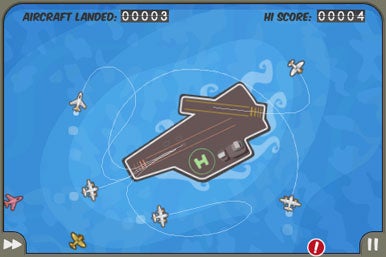 Firemint's Flight Control ( ) is at the top of the heap of traffic control games that came out for the iPhone in 2009. In this case, you're an air traffic controller, directing airplanes of various sizes and configurations (as well as helicopters) onto runways and landing pads at various airports. Planes travel at different speeds and each is color-coded to land on specific runways. As the game goes on more and more vehicles will crowd the skies. The game saves your progress if you quit and lets you compare high scores to other gamers in your area. What's more, it costs only a buck.
Ramp Champ
The Iconfactory and DS Media Labs teamed up to create an iPhone game that harkens back to the carnival midway in Ramp Champ ( ). The $2 Ramp Champ is a series of delightful mini-games in which you roll a ball upwards (by flicking your finger) to hit objects in a shooting gallery. Each board (four are included and others are available as in-app purchases) features special goals to reach, and the higher your score, the more tickets you'll receive. You can cash in those tickets for virtual in-game prizes, just like on a real midway. Gameplay is simple and addictive, and The Iconfactory's art is so fantastically detailed you'll spend a lot of time just admiring the minute flourishes.
Dungeon Hunter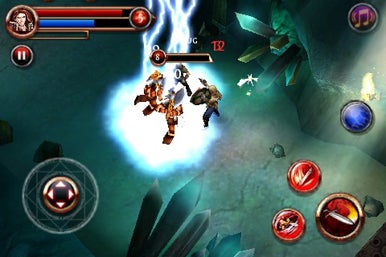 No iPhone game has come closer to reproducing the hack and slash-style action role playing game mechanics of Blizzard's legendary Diablo games than Gameloft's superb $5 Dungeon Hunter ( ). It's all here: fantastical creatures, different character classes to choose from, magic items to use and treasure chests to plunder, different control schemes to help you find the one that works the best for you, a great soundtrack, terrific graphics and awesome special effects. Dungeon Hunter is one of those games that helps show off just how great the iPhone can be as a gaming platform.
LED Football 2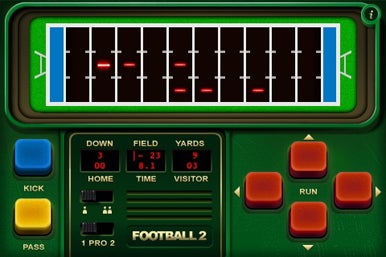 Never mind Madden or NFL 2010. Our pick for the best football game of this past year is Touchgrove's LED Football 2 ( ). It's a recreation of the LED handheld game that Mattel built in the late 1970s, now complete with passing and running backwards. An update late in 2009—made after Touchgrove reached a licensing arrangement with Mattel—has added the original sound effects, making this $1 love letter to the 1970s an astonishingly perfect recreation of the original, and a must-have for any self-respecting iPhone or iPod touch gamer in their 30s or early 40s.
Peggle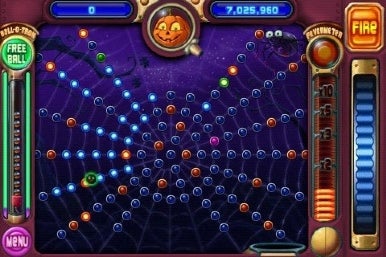 PopCap Games' Peggle ( ) promises to be one of those casual games that enters an almost Tetris-like ubiquity, available for every game platform out there simply because it's fun to play and ruthlessly addictive. In the $2 Peggle, you must remove orange pegs from a gameboard using a cannon that fires steel balls. It's part pachinko, part pinball, part Bust-a-Move, and pure fun. The game features colorful animated characters, detailed backgrounds rich with graphical details, terrific music, and a duel mode that lets you play against the computer (or another player, by handing off the iPhone). Peggle is one of those rare games that appeals to casual gamers and seasoned gamers alike, and it's a must-have for any puzzle game enthusiast.
[Former Macworld senior editor Peter Cohen is now executive editor at The Loop.]
Editor's Note: This article was updated on December 31 with a new image of LED Football 2.