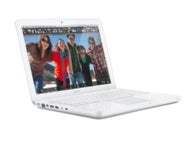 The price of admission has dropped for students to join the mobile Macintosh community. The entry level MacBook is normally $999 for we non-.edu plebeians, but runs $949 for those with access to Apple's Store for Education. However, Apple has dropped another $50 post-Christmas and the model can now be had for just $899.
For that, you get a 2.26 GHz Intel Core 2 Duo processor, 2GB of RAM, a 250GB hard drive and an Nvidia GeForce 9400M graphics chip, all wrapped in a shiny white polycarbonate unibody enclosure. The MacBook is still listed as $949 on the gateway education pricing page on the Apple Store as of this writing, but click through to the purchase page and you'll get the new, lower price.
Pricing on other educational Mac models remains unchanged, ranging between $50 and $100 off the full retail cost.
[via TUAW]