Pocket Devil is a hilariously evil game from the makers of Pocket God.
Oh, wait. No it's not.
Pocket Devil from Eyedip is a hilariously evil game that crosses well past the line of "homage," deep into the realm of "blatant rip-off" of Bolt Creative's Pocket God. Where Pocket God casts you as a vengeful deity ruining the lives of cheery pygmies on an idyllic island, Pocket Devil instead casts you as Satan himself, torturing strangely devilish pygmies in the fiery pits of hell.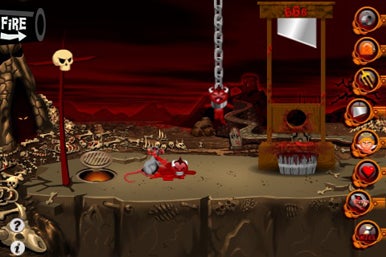 You're offered many ways to ruin the (after)lives of the woeful creatures under your control in Pocket Devil. You can flick them and drag them all over the screen, for starters. And then you can pick from a variety of torturous devices to further the creatures' suffering: You can chain them by their necks, drop them into a hellish sewer grate, douse them with gasoline to set them ablaze, drop pitchforks on their heads, or summon a guillotine to drop their heads themselves. You can unleash a flesh-eating rat. Or, if you're feeling both evil and lazy, tapping the skull launches some evil force that kills every character left on the screen.
This game is not for the squeamish, the faint of heart, or even the morally sound. The suffering that you'll inflict on these poor creatures is cartoonish but intense—you'll see them vomiting up blood and hear them screaming in agony. You have an endless supply of creatures to torture; kill everyone around, and you can just tap to conjure up a few more hapless victims. The infinite population and over-the-top torture might mitigate the intensity of the horror you'll cause, and I imagine you've already stopped reading this review if you find the game's general concept too off-putting.
The game includes other elements that add to the general goofiness of its central conceit. You can create a literal stairway to heaven if you tire (briefly) of inflicting pain, freeing the pygmies from eternal damnation. You can introduce Trizzie, an attractive female who mesmerizes the other creatures around her—and then subject her to the same cruel fates you've been subjecting everyone else to. There's also a ridiculous mini-game where you're tasked with seeing how many pygmies you can kill in a span of 60 seconds. And, of course, you can share your murderous success on Facebook and Twitter.
Pocket Devil offers the same basic kind of fun as Pocket God, although the Devil version definitely skews more toward the wickedly diabolical. Which is fitting, perhaps, since Pocket Devil's extreme warped photocopying of Pocket God certainly seems devilish on its own. Bolt Creative updates Pocket God incessantly; it's five times the game it was when I initially reviewed it. Pocket Devil, fittingly, seems hellbent on emulating that Pocket God feature, as well—promised updates "will catapult the craziness to killer new heights." (The most recent edition adds a holiday spin on the misery.)
There's definitely a moral ambiguity at play here: I have no objection to letting my inner sadist work its malevolent magic in a safe, cartoony iPhone game. But I do take pause at enjoying a game that so explicitly knocks off an App Store gem. Pocket Devil has some major ground to cover before it can truly compete with Pocket God—it's missing the gravity, design, and depth of that game. And it's as audaciously named as if Microsoft had just released Windows X. There's plenty of potential here, though any improvements would really mean getting ever-closer to Pocket God's original greatness. If you're OK with that, Pocket Devil may well be worth the buck.
[ Lex Friedman wonders if every single App Store developer is the devil inside.]