[Editor's Note: This article is originally from New Year's Eve 2009. Add a penny and the rest still applies for New Year's Day 2011.]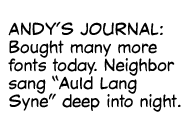 It's easy to complain about the soul-eroding tyranny of badly-created, ungodly-overused fonts. In restaurants in some parts of San Francisco, "There's Comic Sans on my menu!" has taken the place of "There's a cockroach in my salad!" as plausible explanations to the cops about why you freaked out and did a dine-and-dash. The management should definitely comp you a dessert, at minimum.
Okay. But is there anybody out there actually doing something about the problem?
Why, yes: the fine men and women of Comicraft Fonts ( https://www.comicbookfonts.com/). Comicraft is out on the front lines in a never-ending battle against Comic Sans, Helvetica, Papryrus, and the American Typewriter.
They hold a unique and cherished position among font companies. Their fonts are not:
The sort of stodgy typefaces ideally suited for printing a Papal bull canonizing a new saint; nor

The sort of useless, over-stylized letterforms that desperate graphic designers turn to when a client rejects a sensible logo or label design for the seventh time and for the seventh time asks for "something edgier"; nor

The result of scanning in the work of competent font design professionals and then clumsily applying the Bitmap -> Outlines tool in Illustrator.
No, to the last, Comicraft's fonts are lively, but clear and readable; interesting, but not distracting; unique, but with a wide range of applications.
I've been a huge fan of these folks' work for years and Comicraft fonts is nearly always part of the answer to any design problem I face. They're the titles for my YouTube videos, the fonts delivering Good Wishes in my electronic Christmas card this year, the headers and banners in my websites. And every Keynote presentation I do usually contains 100% Comicraft fonts.
Which led to the finest and most direct compliment their work has ever received, I reckon. During a Q&A after one of my talks, somebody wanted to know "What font did you use? It's like Comic Sans… except it doesn't suck!"
See? Adding good, commercial fonts to your library is the easiest way to reap big dividends in any design project. It breaks people out of their usual "PowerPoint-default" trance and instantly adds a dash of Tabasco.
Why am I bringing this up today?
Ah: because the aforementioned Fine Men And Women Of Comicraft have hearts of pure sterling. Comicraft fonts are the result of careful labor by skilled professionals, and their prices tend to reflect that. Not a penny more than they're worth, of course, but still, many folks can't afford to pop $129 even for a non-sucky replacement for Comic Sans.
On January 1, however, the price of every font in the catalog drops to $20.10 for the whole day. One penny for every year since…well, let's be non-controversial and call it "since year zero."
Yes, even the fonts that cost less than $20.10. You'll push right past that when you realize that it includes even the fonts that cost hundreds of dollars.
It's a one-day land rush and you'd be a fool to let this chance pass you by. You ought to head on over to https://www.comicbookfonts.com/ now and make out a shopping list. On the day of the sale, it'll be impossible to tell how big a deal you're getting on each of these typefaces. The fact that "Comicrazy" normally costs $395 shouldn't make it more attractive to you than if it were merely $129 but let's admit that the Humans are an imperfect species and acknowledge that yes, the fact that you're getting a $395 font family (Roman, Bold, and Bold Italic) for 95% off makes it more attractive.
Another good reason for advance recon: Comicraft's online store doesn't offer the single very best browsing experience ever. Fortunately, their whole font catalog is available as a PDF download. Do keep in mind that many Comicraft fonts don't come in upper and lowercase; not all of them come with bold and italic variations; and not all of them come with the full magilla of international symbols. So look before you leap.
Here are some of my favorite fonts, to get your wish list started:
Hedge Backwards International (Everyday price: $149)

This is the legendary "Like Comic Sans, Only It Doesn't Suck" face, and one of the first Comicraft fonts I ever bought. It's my default font for all presentations. Be sure to get the International version for all the bells and whistles.
As Comicraft's name implies, they're famous for their comic book lettering fonts. In fact, if you've bought a comic book in the past few years, it's almost a certainty that it was lettered using Comicraft fonts…assuming that the whole digital lettering job wasn't contracted out to Comicraft to begin with. They have dozens of hand-lettered styles in their catalog.
I seem to buy a new hand-lettered font or three every year. Namely,
Comicrazy (Everyday price: $395)
Yes, the most expensive font they sell. It's tighter and darker than "Hedge"; I tend to use it for more "talky" bits of text.
Brian Talbot (Everyday price: $99)

You'll recognize the name. You'll recognize a lot of the names in the Comicraft catalog. Many major artists have had custom fonts created for them, based on their own lettering or a style they wanted for a specific project.
"Brian Talbot" was one of my best purchases last year. I'm using it more and more; it's even starting to edge out "Hedge" as a presentation font.

The package comes with both normal and "all uppercase" editions. Why an all-uppercase font? Because the it lets you have two slightly different versions of the same character. If you need to set a word like "Coffee" you can make the repeating letters look like they were hand-lettered, as you can see to the right.
Monologous International (Everyday price: $149)
I could go on and on about these hand-lettered faces. So I'll just close this bit with "Monologous." It's what most civilians associate with classical, hand-lettered comic book text. Suffice to say that if you want to re-letter Reed Richard's dialogue from "Fantastic Four #1" to give it more of a modern, tech-industry twist, look no further than this font:
Cheese And Crackers (Everyday price: $69)

This one is an emblem of why I love this company's fonts…and how valuable their font sale is. I probably wouldn't have taken a flutter on this one. But for $20.07? Sure, I'll take a shot. And it's become one of my go-to display fonts. It's lively, it's fun, but it's professional and easy to read. Three years later, you will need to part with three pennies more than I did.
Letterbot (Everyday price: $29)

Oh, for Pete's sake. You're whining about this one because it's only about 30% off? You ingrate!
Letterbot (along with Hedge and Cheese) has proven to be one of the true iron horses of my Comicraft collection. It's especially useful as titles and subtitles in online videos. It has a certain amount of style about it it's so blocky and dense that even the worst video compression can't make it unreadable.
Spills International (Everyday price: $49)

Another "I bet I'll almost never use this" font, that I just keep using over and over again. I soon adapted my standard Keynote presentation template to use Spills as the title card…the thing people see as they enter and take their seats. It has a flashy "Title card of a 1940's thriller" look about it.
Speeding Bullet (Everyday price: $49)

This is a very tidy little package. You get a thick, shouty, blocky, vintagey title face that's perfect for signs and other things that need to attract immediate attention. And you also get the quirky edition with the speed lines. You sure won't get a hell of a lot of use from it but the one time you need to produce a sign for your kid's Pinewood Derby event…bingo.
A holiday tradition
The Comicraft Font Sale has developed into a bit of an annual holiday tradition. When my New Year's Eve revels are complete (12:01, I change out of my tuxedo and lampshade and put on my jammies, finally resigned to the fact that no last-minute party invitations are forthcoming) I spent an hour on Comicraft.com making all of the purchases that I'd settled on earlier.
The next morning, I rethink a few of the fonts from the "No" pile and make some more purchases.
Then I hit Twitter, hear from friends bragging about the great faces they picked up…and I buy some more.
So, yes: it can be a pretty expensive way to spend New Year's Day. But buying fonts from Comicraft's one-day sale is a lot cheaper than a slate of bad college football bets and far more likely to pay actual dividends.