If you weren't already overwhelmed by the colossal array of choices available on Internet radio, maybe you will be soon. Rogue Amoeba has released Radioshift 1.5, an update to its Internet radio player/recorder software. Version 1.5 can pull in thousands more streams than its predecessor.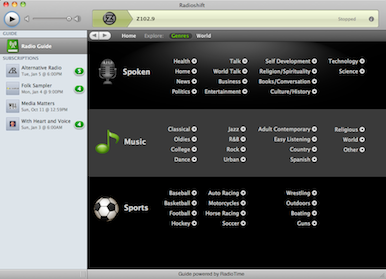 Radioshift allows you to search for Internet audio streams by name, genre, or location and either play them live or record them for later. Recorded streams can be easily transferred to iTunes or an audio editor.
This new version can grab streams previously available only through Web players. And a new "Install Players" feature will install or update RealPlayer and Flip4Mac directly from within Radioshift, ensuring playback for streams that require those players. Rogue Amoeba says Radioshift has access to more than 100,000 streams.
Streaming reliability has also been improved in version 1.5, and Radioshift will now attempt to restart a bad stream or use a backup stream if one is available.
The interface has received a minor overhaul. In earlier versions, choosing a live stream would cause the application to automatically resize its window to display the playback area, a jarring experience for those of us who are obsessive about keeping window sizes consistent and familiar. Now the playback area is displayed at all times, negating the need for resizing.
Radioshift 1.5 requires Mac OS X 10.5 or later. It's a free update for registered users. New users pay $32. A free demo version lets you listen or record for 20 minutes at a time.