Putting more than four dozen news sources at your disposal, News Fuse USA from icoderz doesn't skimp on news aggregation. But some times, bigger isn't always better.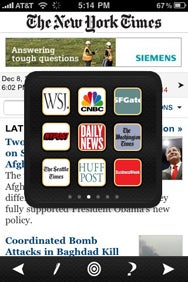 The $1 news aggregator for the iPhone and iPod touch comes pre-packaged with 54 news sources, which load in their respective mobile formatting. For the most part, News Fuse is simply a Web browser with built-in news bookmarks, though the app does come with features that are useful for news sites, such as the ability to e-mail a link to an article. However, these features are few and far between, and not as powerful as what you might find in other dedicated news apps. For instance, you don't have the ability to send an article to Twitter or save it to an offline reading app like Instapaper. (The app does offer copy-and-paste functionality.) To save money, one could accomplish the same tasks in Mobile Safari.
While Mobile Safari is able to browse to each of these news sites, having 54 bookmarks for popular news sources can clutter things up. News Fuse nails its user interface, which is simple, easy-to-use, and snappy. Minimalism is News Fuse's strong suit, as it allows you to quickly access the latest news without long load-times or confusing menus to navigate through.
Having 54 news sources in one app is definitely convenient, and if you find yourself checking several news apps on the iPhone, News Fuse is definitely a simplistic alternative to try out. However, a lack of customization like you'd find in RSS feed readers and other missing capabilities are noticeably absent, making this news aggregator less powerful than it could be.
[ John Fuller is a freelance designer and writer from Texas.]