Any reminder application for the iPhone or iPod touch has one simple hurdle to clear: Does it remind you to remind you? It doesn't matter whether the app is supposed to tell you that your wedding anniversary is next month or your mortgage was due yesterday. It doesn't matter how pretty the app looks, or how user friendly the interface may be. If you don't remember to use the app to check on what you're supposed to be doing, the app is, shall we say, less than useful.
And the best way for an application to remind you of anything is with push notifications. If a reminder app lacks that one feature, the rest is essentially window dressing.
At least three bill-reminder applications for the iPhone and iPod touch contend for attention and accolades. Two of the three meet that minimum standard.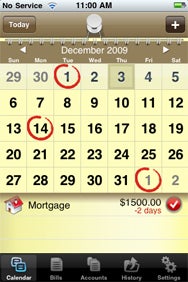 Ticklish Turtle's Bill Pal is by far the best looking of these apps. But it doesn't have push notification. OK, OK… it may not be fair to say "the rest is window dressing." Bill Pal is a fine app, with a terrific interface and some useful features. A reminder of upcoming or past due bills will pop up when you launch the app—assuming you remember to check it.
Creating bills is slightly laborious in Bill Pal. But once you have spent some time creating your accounts and delineating categories, maintaining your bills is a simple matter. Bill Pal lets you set reminders, and the app will roll your bills over to the next month.
The app's nicest feature is its calendar, which incorporates an easy-to-read list view at the bottom of the screen. You can see at a glance when your bills are scheduled for payment, what bills are coming up, and which bills you've paid. You can't really sort the list, unfortunately.
Another drawback: Bill Pal is buggy. The app got hung up a couple of times when I created new bills. I had to restart my iPhone to get the app to relaunch without crashing.
Without push notification, though, Bill Pal is somewhat less than the sum of its parts. That's a shame. I do hope the developers incorporate a badge count and similar "reminders-to-remind" in future releases.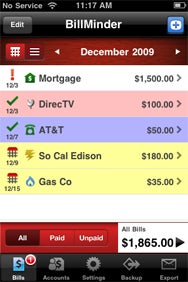 That leaves SnapTap's BillTracker and Return7's BillMinder. Both apps have similarities, beginning with push notification. (One big difference, however: The push feature on BillMinder is not free—the developer requires an annual paid update of about a dollar to help defray server costs.)
Both apps have superficially similar interfaces and perform similar functions in similar ways. You can track information about all your bills by due date, amount due, paid/unpaid, and confirmation numbers. Setting up recurring payments is easy and extremely flexible—you can set daily, weekly, and monthly payments. BillTracker takes a page from Bill Pal by incorporating a calendar view and a quick view that shows which bills you have due in the next 30 days.
What distinguishes BillMinder from BillTracker is the former's sophistication of features coupled with greater ease of use. For example, both apps lets keep track of detailed information about each bill you enter, including the amount due, due date, whether the bill has been paid, and payment confirmation numbers. With BillTracker, you use the standard keypad to enter data, and you need to go through several taps to select creditors, payments, confirmation numbers, and so forth, before saving your changes and updating your bill's status. With BillMinder, you tap on the creditor, hit "Yes" under "Paid" and you're done. You can enter confirmation numbers on the numeric keyboard, which, of course, has larger numbers and is easier to use.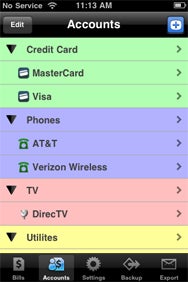 That's just one example. Yet there are a couple of functions and features that BillTracker arguably does better than BillMinder. Although both apps show complete bill payment histories, they display differently. BillTracker will show you exactly when you paid a bill under each account's history, while BillMinder's history shows when you added a bill. BillMinder's calendar displays red circles around bill due dates. The closer you are to a due date, the darker the circle becomes. But this isn't obvious, and may be difficult for colorblind users to appreciate. BillTracker uses different colors on the calendar to contrast bills you've paid from bills you owe.
BillMinder and BillTracker are both very good, and individual users may find certain features more appealing than others. For the moment, however, BillMinder maintains an edge over the competition.
[Ben Boychuk is a columnist and freelance writer in Rialto, Calif. Feel free to e-mail him.]