For the basketball fan on the go, NBA Game Time provides a variety of ways to keep tabs on the league action wherever you are. The highlight of NBA Digital's $10 app is the streaming radio broadcasts, but there is plenty more to help with your basketball fix as well.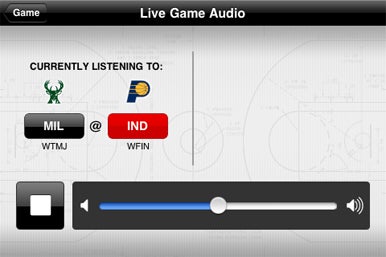 NBA Game Time features four main sections, which you navigate via a bottom menu bar. The Games section is the app's centerpiece; it gives you a daily schedule of games. Select one in progress, and you can then choose to listen to the radio broadcast of either the home or away team. While the broadcast plays in the background, you can follow along with a live-updating scoreboard. If you select a game that is not in progress, you can view a game preview or summary.
A toggle at the top of the Games screen allows you to choose "League" or "Team" settings. The League setting will launch the Games screen into a daily schedule, so you can view the day's match-ups all in one place. If you have Team selected, you're greeted with your favorite team's schedule, allowing you to see all upcoming games at a glance; you can also scroll backwards to quickly see recent results).
The Standings area does what you might think, showing league standings that can be sorted by Conference, Division, or overall League. The catch-all League area of the app provides a variety of information from around the NBA. The League section contains four sub-sections at the top of the window: Video shows a selection of game highlight clips from NBA.com; Leaders displays league leaders in nine major statistical categories; News pulls top news stories from NBA.com; and Community displays the updates from the official NBA Twitter feed. (Labeling this last section "Twitter" instead of Community would make more sense.)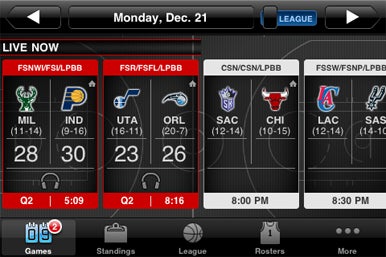 The last major section of the app is Rosters, which makes it very easy to find stats on every player in the league. It's a dream for statheads and fantasy players. You sort the window by team, or by player—if you choose player, a handy search box at the top quickly pulls up who you're looking for. When you select a team, the full roster is displayed. From there, you can drill down into a Player Card for each player. The Player Cards are displayed just like the old baseball cards you traded as a kid: personal info and photo up top, and career and year-by-year statistical breakdowns below. If you want to find out Ray Allen's field goal percentage his rookie year, it's only a few taps away.
Hidden away in the More section of the app (which also contains most of the Help and technical information about the app) is the Alerts settings. NBA Game Time allows for a variety of Push Notification options, and they can all be set from here. On a per team basis, you can choose to receive alerts when games start and end, as well as quarter and half updates. If you choose to turn the alerts on from within the app, make sure you have also allowed for Push Notifications from NBA Game Time in the iPhone's main Settings app as well, or else they will not be received.
In addition to all the useful features that NBA Game Time provides, the app is very nicely designed, laid out, and simple to use. Short of showing the games live (and yes, there's an app for that too), NBA Game Time provides a great amount of content for an NBA fan.
[Macworld Contributor Beau Colburn lives in Boston where posts some of his favorite iPhone photos at Snap Different.]