The end of one year and the beginning of another usually lends itself to list making. That goes double when the second-to-last digit in a calendar year flips over to a new number. That's when every writer worth his or her salt breaks out a pad of paper, an almanac, and a top 10 list to signify the most important, most memorable, or best things of a particular decade.
What's that? You're already starting to compose a lengthy screed about how this isn't the end of the decade? Well, then allow me to introduce you to this section of the Macworld.com forums where you and your fellow pedants can type out arguments about when the decade starts until your fingers ache with the satisfaction of telling everyone else what's what. Don't worry—the rest of us will carry on without your valuable input.
Are they gone? Good. Let's continue.
I'm as prone to nostalgia as the next writer, so I couldn't let this New Year's weekend pass without throwing my own decade retrospective into the mix. Here's my look back at the last 10 years, focusing specifically on the most significant things to come out of Cupertino in the Aughties.
How successful a decade was it for Apple? Consider that in the last 10 years, Apple introduced the Mac mini, which offered users a low-cost desktop option; Safari, which took the pain out of Mac-based browsing; and iChat, which changed the way we communicated with others—and none of those made my Top 10 list. That's the sign of a company that had a lot going on from 2000 to 2009.
10. Apple introduces iPhoto (2002)
What happened: At the 2002 Macworld Expo, Apple showcased iPhoto, a free program for managing digital photos. That original release was missing a few features—it's certainly a far cry from the latest version of iPhoto and its ability to organize images through facial recognition technology. But at the time, it brought a level of simplicity and organization to the increasingly popular world of digital photography.
Why it matters: Digital imaging boomed in the past 10 years, to the point where even novice shutterbugs tote around multi-megapixel monstrosities. Apple recognized the growing interest in digital cameras early on and gave users a tool that helped them get more out of their images.
9. Apple opens its first retail stores (2001)
What happened: In May 2001, Apple launched retail stores in Tysons Corner, Va., and Glendale, Calif., with the idea of opening 25 retail outlets by the end of the year. By the end of the decade, Apple would have 273 stores around the globe, including outposts in London, Paris, and Beijing.
Why it matters: Apple's goal in launching a brick-and-mortar retail effort was to reach customers who might not otherwise consider buying a Mac. "We want to convince the other 95 percent that Apple offers good products," Apple CEO Steve Jobs said back in 2001. "If only 5 of 95 people in this group become Mac users, we'll double our market share." It would be hard to dispute that the Apple Stores helped the company build its customer base. Consider the third quarter of Apple's 2009 fiscal year: the company sold 492,000 Macs at its retail stores, with half of those computers bought by new Mac customers.
8. The iTunes Music Store debuts (2003)
What happened: Apple opened the doors to its online music retail service in April 2003, launching the iTunes Music Store with 200,000 songs that users could download for 99 cents each. The store is slightly larger now—in 2008, it became the top music retailer in the country. And it now offers TV shows, movie purchases and rentals, and DRM-free music.
Why it matters: There wasn't much to online music retail before the iTunes Store came along—why buy a song when you can find it on a file-swapping site for free? But the quality of iTunes music and the ease with which you could download them helped popularize buying music online. And all that digital content didn't exactly hurt iPod sales either.
7. Apple opens up the iPhone to third-party developers (2008)
What happened: Software makers who wanted to build something that could run on the iPhone had one Apple-approved option in the first year after the iPhone's release— make their application Web-based. That changed in 2008 with the iPhone software development kit, which gave developers the tools to make native mobile apps for the iPhone and iPod touch. The App Store opened that June with 552 apps. These days, that number tops 100,000.
Why it matters: The iPhone has a lot of things going for it, as we'll see below. But one of the things that sets the iPhone apart in a crowded smartphone market is the depth and quality of the third-party apps that support it. Apple has some kinks to work out of its approval process and App Store organization, but the company absolutely made the right decision in opening its mobile platform to developers.
6. Apple introduces the Aluminum PowerBook G4 (2003)
What happened: Apple kicked off 2003 by declaring it the "Year of the Laptop"—and the company wasn't kidding around. It introduced 12-inch and 17-inch versions of the PowerBook G4 that year, with both configurations housed in a new anodized aluminum enclosure; 15-inch models would follow by year's end. With a few minor modifications, that design would remain in place for the rest of the decade—even the justly-praised unibody design that houses Apple's portables these days maintains the elements of those aluminum PowerBooks. What's more, Apple continues to offer the small, medium, and large options in its laptop line.
Why it matters: The Aughties turned out to be the decade we went portable. Performance improvements made laptops every bit as appealing as their desktop counterparts. And this 2003 release from Apple helped set the tone. The company reaped the rewards of our newfound appreciation for mobile computing—laptops now represent more than two-thirds of the Macs Apple sells and have helped the company routinely smash its own quarterly sales records.
5. Boot Camp lets Intel Macs boot Windows (2006)
What happened: Once Apple started building Macs powered by Intel-designed processors—more on that momentarily—it didn't take much to get Microsoft's Windows operating system running on Mac hardware. That turned out to be Boot Camp which let Intel-based Mac owners boot directly into Windows XP. Boot Camp is now built into Mac OS X, while third-party developers offer virtualization software that let you run Mac and Windows on the same machine.
Why it matters: The ability to seamlessly run Windows on a Mac removes one more obstacle that might otherwise keep corporate IT departments from letting their employees use Mac hardware. Boot Camp and third-party virtualization offerings make the Mac a more attractive option in settings where the Mac never would have been welcomed at the start of the decade.
4. Apple begins the transition to Intel processors (2005)
What happened: Steve Jobs dropped a bombshell in his 2005 Worldwide Developer Conference keynote when he announced that Apple would drop PowerPC processors in favor of Intel chips. Apple would introduce its first Intel-based machines six months later, in the form of the iMac and the MacBook Pro. By the 2006 WWDC, Apple completed the Intel transition with the release of the first Mac Pro. And the Mac OS X update released this year only runs on Intel-based hardware.
Why it matters: The PowerPC processor had gone about as far as it could go. Switching to Intel chips opened new possibilities for Apple, and the company has delivered with a steady stream of updates that have the Mac in exciting new directions. And, as noted above, Intel-based hardware can run Windows, making the Mac a more attractive option for businesses.
3. Apple releases the original iPhone (2007)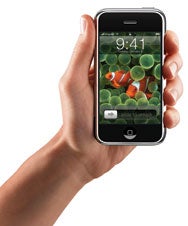 What happened: It was easily the most dramatic moment of the decade: At the end of his January 2007 Macworld Expo keynote, Steve Jobs reached into his pocket and pulled out the first iPhone. It's safe to say that Apple—and the mobile phone market as a whole—hasn't been the same since. In the two-plus years and two iPhone updates since that moment, Apple has sold more than 33 million phones with no signs of slowing down any time soon.
Why it matters: Like another Apple portable device we'll get to in a moment, the iPhone was a game-changer—both for smartphones and for Apple itself. Any smartphone to come down the pike these days invites inevitable comparisons to the iPhone. Meanwhile, Apple has found itself another source of revenue to go along with its Mac and music businesses.
2. Mac OS X 10.1 comes out (2001)
What happened: Apple actually overhauled its Mac operating system in March 2001, replacing the classic Mac OS with OS X. OS X 10.1—"Puma" to its close friends—would follow later that year, and while the Aqua interface and Cocoa and Carbon APIs that marked the new OS were already in place, this version introduced the improvements that made OS accessible to most users.
Why it matters: For Apple's core Mac business, nothing matched the impact of the switch to OS X. It paved the way to wider use of the Mac platform and set a standard that forced other OS makers—we're looking in your direction, Redmond—to step up their game. Honestly, I could have picked any of the OS X updates that Apple ushered in throughout the decade, but in this scribe's opinion, 10.1 was the version that signaled Apple's new OS was ready for prime time.
1. Apple releases the first iPod (2001)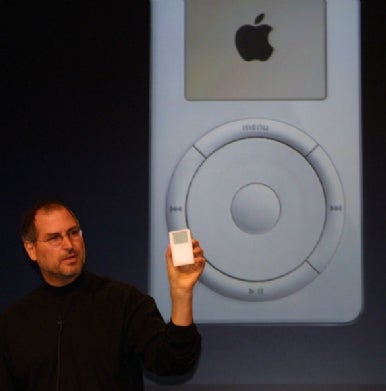 What happened: At an October 2001 press event at its Cupertino headquarters, Apple unveiled a music player with enough capacity to hold 1,000 songs. The portable music player soon became ubiquitous—adding Windows compatibility in 2002 certainly helped in that regard. And even with iPod sales growth slowing down, Apple still routinely sells 10 million music devices a quarter—unless it's during the holidays, when that sales figure doubles.
Why it matters: Mac purists may shudder at the thought, but the iPod indicated that Apple was more than just a computer company. The device established the company as a leading player in the digital decade, when we began to rely less on physical media for our entertainment and more on digital files. As the iMac helped revive Apple's fortunes in the previous decade, the iPod padded Apple's profits, setting the tone for a successful—and lucrative—decade to come.
But that's just one man's list. I'm sure there are plenty of other milestones from the last 10 years that I've overlooked.