SLIDESHOW
8 great free Mac gifts
If you don't have any money, these gifts might just be right up the alley of that special Mac user in your life.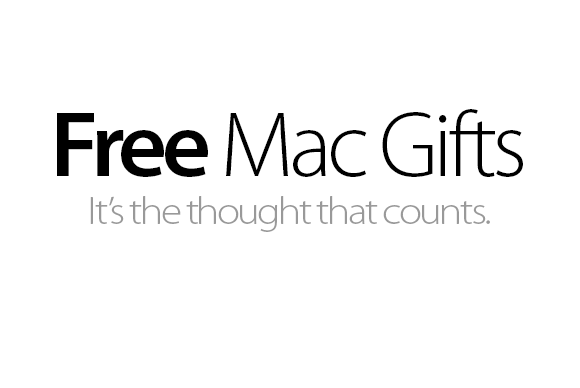 Free gifts for Mac users
Maybe you're a bit short on cash this year (like me), or you just want some ideas on what you can do for those special to you over the holidays. Here are some great Mac-centric gifts that won't cost you anything other than maybe your time and energy.
Update iOS devices
Check out all their Apple devices to make sure they're up to date with the most recent software. This will probably be more relevant if they have any iOS devices but neglect checking for the most recent system updates. It's possible that if your recipient is have a persistent problem, an update fixes it.
Set up a blog for them
My grandfather really wanted to start a blog, but had absolutely no idea how set one up, or use it once he did, for that matter. If you know somebody in a similar situation, it shouldn't be too much trouble to set them up up with a blog at a free service like Blogger or WordPress.
If you've used one before, it's probably best to try to stick with that service, as it will make providing support a lot easier. Take a bit of time to walk them through creating posts, adding images or video, and curating comments.
Dropbox (2GB free)
Take a bit of time to set up Dropbox for that special someone—after all, not having a Dropbox account makes one pretty special as it is. Dropbox offers a free plan that is more than enough for effortlessly backing up your important documents. Be sure to use your referral email so you can both gain some extra space right off the bat! (Image credit: Dropbox)
Convert their physical media to digital
If you know somebody will a lot of old CDs or DVDs that they want to get on to their devices, do them a favor and convert all their physical media to digital. This gives them a backup copy, and you can show them how to do it so they can add any other media they might find or buy later.
This is also a good opportunity to help them organize their media library. Make sure to check that there aren't duplicate songs or videos.
Set up a Time Machine backup
Backups are important, not only for enabling a quick recovery from an unexpected crash, but it also gives you peace of mind and may save unnecessary grief when your relatives or that special somebody calls with a computer problem.
If they happen to have an external drive handy, take a bit of time to set up Time Machine. It's a pretty easy setup, but depending on their level of technical savvy, you should cover topics like mounting and ejecting the drive, and not doing that while it's backing up.
Set them up with a Twitter account
I like using Twitter as a way to communicate, as well as keep up on recent news and events. Show that special somebody that you care by setting up a Twitter account for them and showing them the ropes.
There are lots of things you need to get to know about Twitter, and experience will surely teach you these. However you can get a leg up on the competition by following one of these guides:
Mashables Twitter Guidebook
Twitter 101: Getting Started
Twitter: Sign Up
Perform a Mac tune-up
You might not have the ability to show up whenever they want, so if you still want to give them the gift of tech support, do a preemptive strike on their Mac. With their permission of course, and probably with them at your side, go through their files and delete old junk they no longer need. This can help them free up hard drive space rather than getting a new or second drive.
You can also check a list of their startup programs (System Preferences > Users and Groups > Login Items) to see if there are any unwanted programs running that could be slowing down their computer. If you have the equipment, you could also physically open up their computer and get rid of any dust or debris that might have accumulated.
Tech support coupons
If the free support requests are starting to get a bit stifling, you can make up some coupons that give the bearer access to a session of free tech support. You can make generic coupons or specialize them depending on how much time you want to give out.
This is an easy and free (not including your time) gift that can also help to manage your time better, while encouraging others to try googling the problem before going to you for all the answers.
Next Up: Check out these related slideshows
Today's Best Tech Deals
Picked by Macworld's Editors