LG Electronics has developed handheld terminals compatible with the U.S. mobile digital TV format and will show them at this week's International Consumer Electronics Show.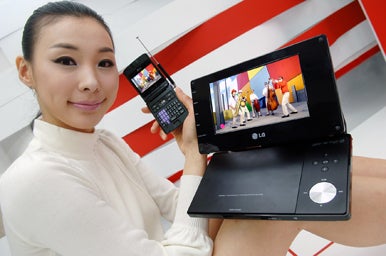 The products include the DP570MH, a portable DVD player, and several cell phones. Detailed specifications of the products were not released but LG did issue images showing the products. The cell phone appears to be a modified version of its Lotus smartphone that has a 2.4-inch widescreen display and QWERTY keyboard.
The DVD player has a 7-inch widescreen display with WQVGA (480 pixels by 234 pixels) resolution and two earphone sockets so TV shows and DVDs can be shared with a fellow traveler. Battery life is about 2.5 hours when watching TV and 4.5 hours for DVD playback. It can also be powered from an AC socket.
It will be launched later this year and will cost $249.
All will be compatible with the ATSC-M/H standard, to which LG Electronics contributed technical knowledge. The service is expected to be mainly used for free-to-air broadcasts of local TV stations with widespread availability across the U.S. beginning during 2010.
To coincide with the launch of services many electronics makers are likely to roll out compatible products and some are expected to be on show at CES.
The International Consumer Electronics Show takes place in Las Vegas from Jan. 7 to 10.