A long, long time ago, in a galaxy light years away from the iPhone and iPod touch, I used to track consulting time using a Palm Pilot. To be honest, I can't remember the name of the program I used, in fact, after years of regular psychotherapy, I believe I've successfully repressed my Palm experience altogether. But tracking consulting time remains as important to me today as it was back then. WorkLog makes tracking time on your iPhone a cinch.
Offered by Cyclus.ch, WorkLog is different. While most time-racking apps I've used for the iPhone are tied to some kind of for-fee, Web-based accounting/billing application, WorkLog is a standalone iPhone app that's slick and offers many useful features.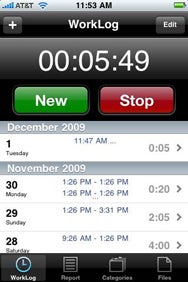 WorkLog's user interface is simple, but effective. There are two buttons for beginning and ending time collection, a stopwatch-like timer display, beneath which is a list of all your previously collected time information, organized by month and day. You can change what appears on the display by tapping any of four buttons at the bottom of the screen—one for your WorkLog and the others for Reports, Clients, and Files.
The Report screen offers four pre-configured reporting options—last month, this month, last week, and this week—as well as a customizable report where you can select your own specific date range. When you select a report, WorkLog displays it on your screen, but tapping the Export button while you're viewing a report saves it as a CSV file which you can then e-mail to yourself or someone else.
Using the application settings screen (Settings -> WorkLog), you can change several WorkLog options, including the rounding increments you want to use—i.e. rounding your time to the nearest 5 minutes. You can also turn on automatic reporting, select the CSV format you want to use for e-mailing, and choose how you want "categories" to appear in the application—as categories, clients, or projects.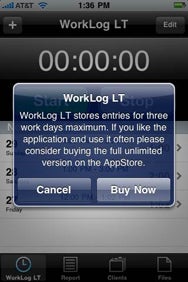 The only place WorkLog left me wanting was in the area of category selection. I would have preferred to be able to make Clients my default category and add subcategories for specific projects or job types. Unfortunately, WorkLog only lets you select one of the three categories listed above. But, as a possible workaround WorkLog does let you create an unlimited number of customized fields for each category/project/client you create.
What do you give up by using the lite version? In terms of features, nothing at all. WorkLog LT has all the features of the paid version, but only lets you collect three days worth of tracked time. This limitation can be worked around by creating a report, e-mailing it to yourself, and then deleting your historical time data, but WorkLog is really the kind of iPhone app that it's worthwhile to pony up the ducats for, once you find that the lite version suits your needs.