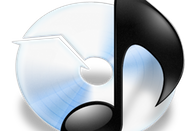 iTunes is a great app, but sometimes it can be overkill. Even if you shrink it, the enormous window seems to demand all of your attention and it can take a while to start up—annoying if you just want to play that one song or movie on the side. Snarb.tk on Monday released an alternative media player with some extra perks called Everplay, and you don't even have to drop iTunes to use it.
Everplay is kind of an "iTunes mini." It uses an extremely small window by default and provides quick access to all of your media—music, movies, TV shows, and podcasts. A unique mix of Cover Flow and a track list takes center stage for all of your browsing; when selecting a music album or TV show, Everplay slides in a list of tracks or episodes. But the best part is Everplay taps into your existing iTunes library, including all of your playlists, and you don't need to launch iTunes. Told you it was an iTunes mini.
Another handy trick up Everplay's sleeve is integration with Last.fm, the web-based music listening and discovery service. You can "scrobble" all your tracks (share a list of what you play to your Last.fm profile), listen to your custom Last.fm radio stations, and even ban or love tracks to further personalize your Last.fm experience.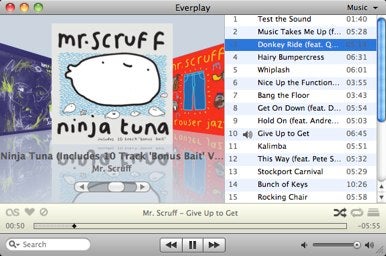 Everplay even lets you search your iTunes library, though search options are mostly tailed for music and not other types of media. Like Snarb's Cover Stream iTunes tool (which I also own), Everplay offers lots of keyboard shortcuts for globally controlling things like volume and track changes, as well as love and banning songs on Last.fm.
One drawback to Everplay is that it cannot play any iTunes Store content wrapped in DRM, which these days basically means movies and TV shows. It should, however, play non-DRM video files fine. But in a future update, it would be great to see Everplay detect these files and hand them off to QuickTime, which can play iTunes DRM files unimpeded.
I've been beta testing Everplay for a few weeks and I've really enjoyed it. I don't always want iTunes running, but all of my media organization does happen in iTunes, so Everplay has been a great, compact DJ. A free demo that requires Mac OS X 10.5 or higher is available, while a license costs $20.