Not to contradict the name of this app from Smule, but let me begin by saying that I am not T-Pain. In fact, until this app came onto my radar, this classic rocker thought that "T-Pain" was a brand of arthritis cream.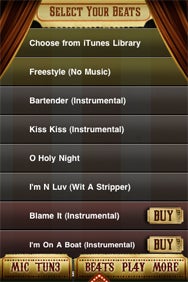 However, curiosity got the best of me, and I've since learned that T-Pain is actually a hip-hop artist whose signature vocal style makes liberal use of Auto-Tune, an audio processor developed by Antares Audio Technologies. Having caused quite a kerfuffle in the pop music world, Auto-Tune, in its purest form, is used by audio engineers to correct pitch problems in both live and recorded performances. But some artists, like T-Pain, crank it up a notch to add a robotic effect to their vocals. Smule has added fuel to the fire by collaborating with T-Pain and Antares to create I Am T-Pain, a mobile Auto-Tune app based on T-Pain's musical catalog. So now, anyone with $3 and an iPhone or second-generation iPod touch can produce their own Auto-Tune vocal recordings.
Essentially, the app works like a karaoke machine: you select from several included T-Pain songs (minus vocals, but lyrics included) and then sing into the inline mic on your earbuds to add your own auto-tuned vocals to the tracks. The app also supplies some other backing beats and provides the ability to purchase additional tracks from within the app. Additionally, you can use your own iTunes library, or simply forego any backing track at all, if you prefer. If you plug your device into an external sound source, then you can have some group fun, Mr. Microphone-style. Or you can sit alone in your room and perform in front of your mirror. Either way, you can either just sing along with the tracks or you can record your own versions, which you can then share via e-mail, Twitter, Facebook, or MySpace.
Since this is the official Antares-licensed version of Auto-Tune, the effect is quite authentic. You can either select T-Pain's signature Auto-Tune settings or you can create your own. A word of warning, though: this app apparently sucks power big time, so when you're finished, make sure to close the app. Otherwise, your iPhone may run out of juice much sooner than you expected. I accidentally left the app sitting idle on a fully charged iPhone and the battery was completely drained in a couple of hours.
I may not be hip to hip hop, but I'm still impressed with the I Am T-Pain app. As a musician, putting the bona fide Auto-Tune processor on a handheld device seems amazing enough. But as a software developer, I'm also impressed with Smule's approach to interface design and in-app marketing. So I have to give I Am T-Pain props even though it's not a mainstay on my iPhone.
[Brian Beam is a rock musician, Robin Trower fan and partner with BOLD Internet Solutions, living somewhere near Kansas City.]