You can tell a lot about the future by studying the not-too-distant past. And that's true with the state of digital cameras. The megapixel war is officially over, as 8 to 10 megapixels has become the default resolution for even the lowest-end pocket cameras. Instead of racing to add resolution, camera makers will be rushing to capitalize on some of the big developments of the past year.
I predict that major manufacturers will be driven to build the ultimate hybrid still/video device, more-versatile pocket camcorders, and pocketable interchangeable-lens cameras, as well as to harness emerging wireless technologies. Here's what we may see coming out of the cameras category at the upcoming Consumer Electronics Show (CES) and throughout 2010.
Maturation of the pocket camcorder
In 2009 we saw the first 1080p-capable, digitally stabilized pocket camcorder, Kodak's Zi8 ( ). And according to Cisco, 2.5 million units of the company's Flip Video camcorders have shipped since 2007. Simple, pocketable, and sharing-friendly video cameras are catching on big-time.
It's time for the specs to catch up. I expect to see a jump in pocket-camcorder features in the next year: higher-quality optics, wireless sharing features, more in-camera settings, optical zoom lenses, and 1080p video captured as high-bitrate AVCHD.
Don't be surprised if point-and-shoot cameras start to adopt some of the pocket camcorders' marquee features, too. We may see models that work in both portrait and landscape orientation to let the shooter reposition the camera depending on whether they're taking stills or video. Point-and-shoot cameras may also incorporate USB connectors to ease file uploads and sharing.
In other words, expect to see pocket camcorders and cameras meet in the middle in 2010.
Smaller, video-savvy, interchangeable-lens cameras
Last year saw the debut of the smallest, most fashionable digital SLR alternatives yet, with Panasonic's Lumix DMC-GF1 ( ) and the Olympus E-P1 ( ) and E-P2 leading the charge.
Over the next year we'll see even smaller and more-feature-packed interchangeable-lens models that offer large sensors, great image quality for both stills and video, and the option of using different lenses in a relatively compact camera.
On the DSLR side of the spectrum, HD video capture will become ubiquitous, as DSLR still cameras continue to become a viable option for professional videographers and independent filmmakers. Last year, HD video recording crept into the feature set of an increasing number of DSLRs from Canon, Nikon, and Pentax. Expect this trend to continue in 2010, and even to pave the way for redesigned DSLR bodies that ease the video-shooting process.
TransferJet and Wi-Fi Direct
For most cameras, sharing and offloading photos and video depends on a separate USB cable. We've also seen our share of Wi-Fi-enabled cameras and storage cards in the past year, but wireless file transfers may get a serious kick in the pants in the coming year with TransferJet- and Wi-Fi Direct-capable devices.
Both technologies support wireless, peer-to-peer sharing between compliant devices, but the logistics differ a bit.
TransferJet is a proximity-based, unencrypted wireless technology that transfers files between devices when you simply touch them together (or move them within an inch of one another). Members of the TransferJet Consortium include Sony, which developed the technology, and other major companies such as Canon, Casio, Kodak, Nikon, Olympus, Panasonic, and Samsung. TransferJet supports peer-to-peer file sharing at speeds around 375 megabits per second.
Wi-Fi Direct is a wireless-networking specification that establishes peer-to-peer connections between Wi-Fi-enabled devices without the need for a nearby router; think of it as a higher-bandwidth alternative to Bluetooth, with transfer speeds around 250mbps. The Wi-Fi Alliance is planning to start certifying devices for the Wi-Fi Direct spec in the middle of 2010.
What does all of this mean to consumers? For transferring photos and video, at least, USB cables may soon be gone for good.
Pocket megazoom boom
Just a couple of years ago, you needed a fairly bulky camera to get a lens with an optical zoom range greater than 10X. Now, you can fit a high-zoom camera in your pocket. One of the big developments of 2009 was the introduction of compact cameras with wide-to-telephoto zoom ranges of 8X to 12X.
The ultimate pocket megazoom model might rear its head in 2010, sporting RAW-shooting capabilities, both automatic and manual settings, 12X to 15X optical zoom, HD movie shooting with the zoom lens enabled, fast autofocus, and library-quiet lens motors. It may also have other in-camera goodies that will depend on who makes it; major manufacturers have carved out their pocket-megazoom niches in the past year.
Which company will offer the ultimate blend of pocket-megazoom features for both rookie snapshooters and experienced photographers? We'll probably find out at CES (or shortly thereafter at PMA).
The perfect $200 point-and-shoot
The crop of $200-or-less cameras announced at the 2009 CES served up serious bang for the buck, and this year's models should offer even more value for the money. In fact, the $200-and-less category has even started developing subcategories of its own, including pocket megazooms, fashion cameras, AA-powered models, and weather-resistant versions.
In new $200 cameras coming in 2010, we're hoping to see wide-angle lenses, 5X to 7X optical zoom, 3-inch LCDs, manual settings such as aperture and shutter priority, and HD video recording (we'll settle for 720p). And they should look good, too.
A few surprises
We should also leave a bit of room for the unexpected in 2010, as 2009 was a year of experimentation. The year staked claim to some innovative, seemingly out-of-nowhere developments in the camera realm; among the most innovative cameras were the following models.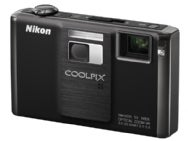 Fujifilm's FinePix Real 3D W1 dual-lens camera created 3D images and video (if you viewed them on the special Real 3D V1 viewer).

Nikon's Coolpix S1000pj came equipped with a built-in projector for viewing photos and videos shot with the camera.

Samsung's DualView TL225 ( ) offered two LCD screens: one huge touchscreen on the back, and a small display on the front designed to assist with self-portraits, baby photos, and timed shots.

Sony's Cyber-shot DSC-HX1, DSC-WX1, and DSC-TX1 ( ) all featured a Sweep Panorama mode that allowed users to press the shutter button once, pan from side to side or vertically, and create a panorama image instantly.

The E-P1 ( ) and E-P2 Micro Four-Thirds cameras from Olympus combined old-school aesthetics with futuristic interchangeable-lens technology, making them fashionable DSLR alternatives.
Will this year's CES have a few out-of-left-field announcements that catch everyone by surprise? We're betting so, and we can't wait to find out what they are.
[Tim Moynihan is a senior editor for PC World.]