At a Glance
Expert's Rating
Pros
Rechargeable battery
Compact, portable design
Good sound quality
Cons
Expensive
No remote control
Our Verdict
Logitech's S315i is a streamlined and attractive portable speaker system. The smoothly curved unit is about the size of a paperback book and a mere 1.5 inches thick. It's light and compact enough to slip easily into a backpack when you're travelling.
You can run the S315i off the included power adapter, but its big selling point is that it has a built-in rechargeable battery that saves you having to keep buying batteries for portable use. The battery lasts for about 10 hours normally, and there's a power-saving mode that can almost double that to 20 hours.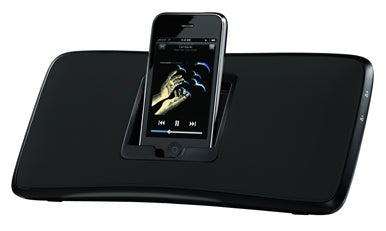 The docking unit is compatible with both the iPhone and all docking iPods, and supports all iPod models without dock adaptors.
A speaker this size obviously won't be powerful enough to replace a larger hi-fi in your front room, but the volume is more than adequate for listening to music at work or in your bedroom.
Higher frequencies are clear and strong, although a little distortion does creep in when you turn the volume all the way up. The bass is also stronger than we'd expected from such a small set of speakers. However, the power-saving mode works by reducing the bass dramatically, so you do have to sacrifice a bit of sound quality to extend the battery life.
Macworld's buying advice
The S315i is a well-designed portable speaker system—light and compact, with good battery life and sound quality. However, a speaker costing this much really ought to include a remote control, and that omission leaves the S315i looking a little overpriced.