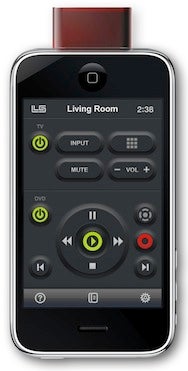 A Florida-based company has announced the upcoming availability of a hardware add-on that turns any iPhone or iPod Touch into a universal remote for your home entertainment devices.
The system, dubbed the L5 Remote and produced by Fort Lauderdale-based L5 Technology, is made up of a tiny 1.5 by .85-inch infrared transceiver that hooks up to the dock connector of your device and an app that provides the necessary user interface to communicate with your favorite appliances.
According to L5, the remote will allow users to design their own visual interfaces using a drag-and-drop approach. However, you'll have to manually assign the functions to the remote by pointing it at the remote of the device you want to control and pressing the button of the desired function.
The L5 Remote serves the same purpose as the universal remotes that Macworld featured in its review roundup last October, except that you will presumably be able to position each key exactly where you want it to be, instead of having to rely on a pre-determined layout.
Interestingly, because the hardware portion of the remote needs to be plugged into the dock connector, the interface of the app is actually flipped upside down so that you can point the IR transceiver at your appliances while pressing a button.
The company claims that the remote will work with iPhone and iPod models of all generations—including the original iPhone—and that it will be able to store and reproduce up to 100,000 button codes in up to 1,000 configurations.
Both the software and the hardware accessory, which does not require any external power source and works by simply plugging it into a compatible device, are slated for release in February. The transceiver is expected to retail for $50, while the companion app will be a free download from the App Store.