At a Glance
Expert's Rating
Pros
Decent audio quality
Colourful design
Comfortable
Cons
Doesn't block out external sound
Sound leakage
Doesn't fold up
Our Verdict
JBL, well known for its speaker systems, has ventured into headphones with mixed results. The company has teamed up with Roxy, the woman's sportswear company, to design headphones specifically for women, although the women they have in mind seem to be adolescents.
The Reference 430 over-the-ear headphones are available in two colour combinations. We received the green and blue pair. The other option is an eye-watering pink and orange. It's a bold blend of colours that you'll either love or hate—it's sure to appeal to the younger generation.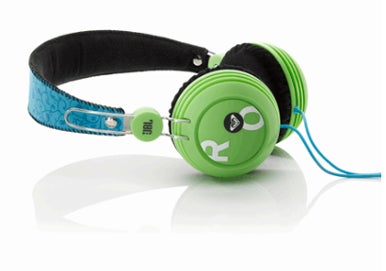 The headphones are well padded with cushions of black felt on the ear pieces and also along the headband. It's easy to adjust the size of the headband via slidable steel loops. They are also light and comfortable to wear, although you ears might get a little hot and sweaty if you wear the 430s for long periods of time.
The 430 comes with a stylish nylon carry case that looks a bit like a wash bag except for the fury lining. The headphones don't fold up as such, but it is possible to rotate the join at the base of the headband so that the ear cups fold back. This doesn't really reduce the bulk, though.
Of course, what really matters is the sound, and for a pair of $70 headphones the sound isn't bad—although you can get more for your money by opting for the less-expensive and equally impressive Sennheiser PX 100 ( ) ( Best Current Price). The Reference 430 offers clear, rich sound and punchy base thanks to JBL's sound technology although, as is the case with all over-the-ear headphones, the louder you turn up the volume the more you will annoy the people around you.
Unfortunately, the headphones don't block out outside noise either, so you will inevitably find yourself turning up the volume. Then again, if you're the kind of person who likes wearing colourful, notice-me headphones, you probably won't mind if the person next to you can hear the music you're playing.
Macworld's buying advice
If you love the bright colours, the Reference 430 is a decent set of headphones. However, if it's a more discreet over-the-ear set you're looking for, there are less-expensive options out there. And if you'd rather keep your sounds to yourself then in-ear options tend to have less sound leakage.