At a Glance
Expert's Rating
Pros
Transparent time stretching
Terrific-sounding effects and processing tools
Quick workflow for recording, mixing, and editing
Perfectly emulates a rack of recording gear
Cons
Interface is hard to read on high-resolution displays
Reason needed to expand effects
No plug-in support
ReWire client only
No MIDI output
Our Verdict
A well-configured recording studio can be a terrific place to work. Recording, patching effects, and mixing is easy, because the right tools are never far away. The interfaces for accomplishing tasks are familiar, designed according to decades of accumulated convention and history. At its best, Propellerhead's Record combines these elements with the flexibility and open-ended nature of working on a computer, all in a package that runs comfortably on any recent (Intel) Mac.
Record is equally distinctive in what it does not do, eliminating features like MIDI hardware output, plug-in support, notation views, video scoring, and other features now common in Digital Audio Workstations. But this philosophy–emulate the best features of hardware, and cut out what you may not need–will be familiar to users of the developer's flagship application, Reason. Having revealed with Reason its take on racks of synths and drum machines, Propellerhead now shows us how it views audio recording and production.
Input with Record
True to its name, Record will have you recording audio from a mic or instrument input quickly. Create an audio track, and Record adds a record-enabled track with a virtual rack of effects and utilities to go with it. There's even a tuner built into the track's lane in the sequencer, in case you need to check tuning on your instrument.
Record is set up by default to store multiple takes when looping is turned on. As with Apple's Logic Studio ( ), there's an easy mode for comping, or making a single composite track out of the best bits of different recorded takes. With a single click or drag, you can choose slices of different takes to use in the final track, and apply cross-fades.
The ability to connect live audio input and record audio is a feature that has been notably absent in Propellerhead's Reason, to the frustration of many Reason users. Easy integration between the two products means that adding Record to Reason finally fills this gap. Purchase both, and Reason's extensive collection of terrific virtual effects can now process live input, including even the ability to route audio signals into Reason synthesizers for modulation. Audio input and recording isn't all Record brings to the table, however.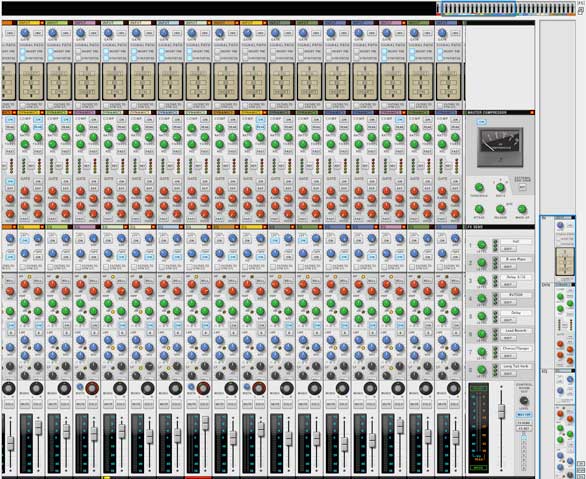 Mixing, processing, and audio warping
The real strength of Record is the way in which it presents an exceptional collection of mixing and processing tools. Each time you add a track, Record patches that track into a rack of signal processing inserts and sends and a central Mixer. Propellerhead has obsessively modeled the look, feel, and sound of real gear. Most notably, the mixer is based on the classic SSL 9000 series, and becomes the center of the Record workflow, even to a greater extent than in other software with mixing views.
Each channel pulls up dynamics processing, equalization, and metering, plus one-stop access to any number of other processing modules you wish to add. None of this is new, but it's the execution that sets it apart: dynamics and equalization sound transparent across their entire range, and they're combined with some of the best effects modules from Reason. For more creative effects, you can add any number of inserts and sends using modules, including Reason's lovely-sounding reverb, Scream 4 distortion, delay, and chorus/flanger, plus the MClass line of "mastering" signal processors, even if you don't own Reason.
Record also adds bass and guitar amp models from Line 6, making Record an excellent all-in-one solution for setting up guitar and bass processing racks and recording and arranging your work. As in Reason, effects modules are patched into intelligent configurations by default, or can be re-patched into your own configurations. If you don't want to be bothered patching, Reason will do the work for you; if you do want to customize your rig, you have fully open, sophisticated modular capabilities.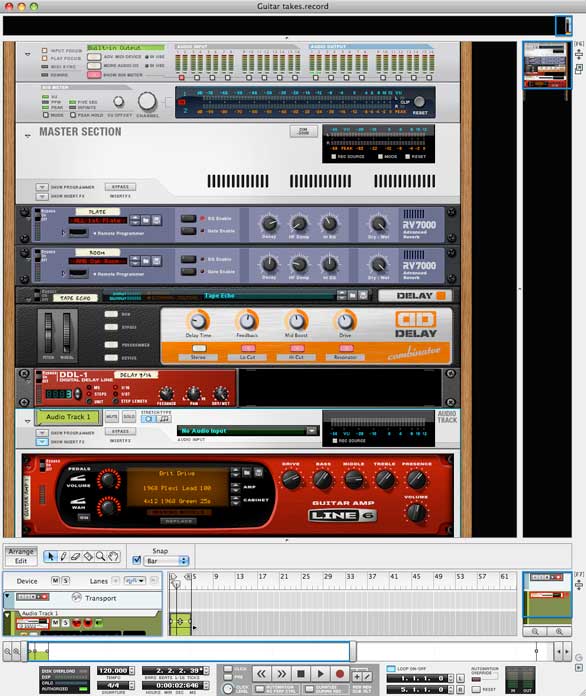 New to Record is a means of accessing effects parameters from the mixer as well as Combinator modules. In keeping with the "studio" feel of Record, a set of macro rotaries and buttons on each channel strip can be configured to access your favorite effects settings. The result is an arrangement that combines the familiar interface of a hardware mixer with the flexibility and open-ended modular potential only possible on a computer system. Unlike Reason, it's also easy to "detach" all the different views or to view them as different panes, ideal for multi-monitor setups and bigger screens. The only problem with the arrangement is that Record's interface is so compact, it becomes extremely difficult to read on a laptop screen, especially at higher resolutions.
Unfortunately, good as the default modules are, if you don't own Reason, you may miss the ability to support third-party plug-ins. If you do need plug-in support, or want to integrate Record with a host that can communicate with external MIDI hardware, you can use Record as a ReWire client with software like Apple's Logic or Avid's Pro Tools. Surprisingly, given that Propellerhead developed the ReWire technology, you cannot use Record as a ReWire host, only as a client. That means you can't, for instance, load an Ableton Live ( ) set into Record in order to process Live channels through the Record effects and mixer; you'd have to bounce the Live tracks to audio and import them first.
None of this would be meaningful without the ability to manipulate audio. Record's best kept secret is its best-of-class audio warping. Add audio to a track, and generally without any intervention on your part, it matches tempo. Audio warping within reason has little impact on audio quality, unlike most warping algorithms. Audio simply changes with the tempo, as if by magic. Unlike Reason, Record requires a hardware dongle. While this can be a hassle, there's a backup Internet-based authorization if you forget your hardware key, and the key does mean the ability to easily move between different machines.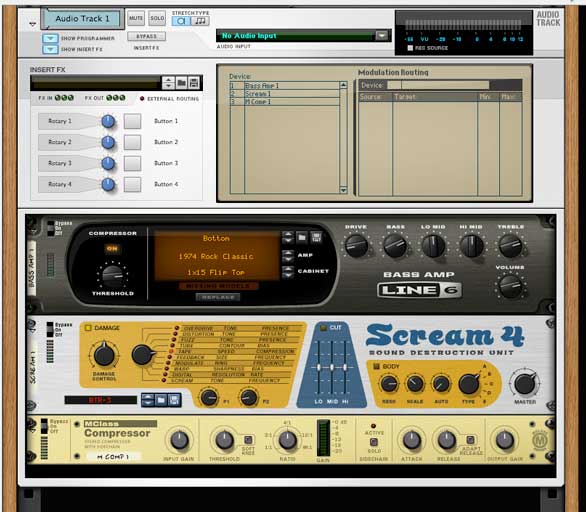 Macworld's buying advice
Record isn't for everyone. If you want an application that supports third-party plug-ins, if you find Record's MIDI editing capabilities a bit thin, if you're working on a film score, or you want to work with external hardware synths, for instance, you should look elsewhere. But part of the beauty of Record is that it isn't for everyone, and it doesn't do everything. What it does do, it generally does exceptionally well. The built-in effects and mixer sound utterly fantastic, yet rarely use much in the way of CPU resources, even on a modest machine. The software is quick, stable, and lightweight. Recording and comping is easy. Patching is dead simple for those who want instant gratification, but, as with Reason, deep and open-ended for more advanced users.
The interface will be instantly appealing to anyone with experience with audio hardware–even if you have to don bifocals to read it on some displays. In the biggest surprise of all, Record sets a new standard for transparently warping audio to tempo without user intervention. If you're looking for software that's focused on recording and processing audio, Record should be on the top of your list to consider. If you're a die-hard Reason user and you want expanded audio signal, mixing, recording, and audio editing features, Record is a must-buy.
[Peter Kirn is a composer, producer, and educator, and runs the site Create Digital Music.]