Emo Weather is a fun and funky little weather app that provides all the basic weather information most people need. It does so with a unique emotional flourish—including apt quotes, kid cartoon characters displaying facial expressions that reflect the current weather conditions, and even clouds that show a variety of emotions.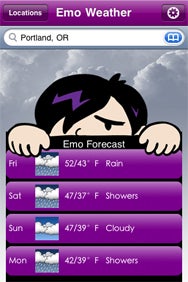 Developer Dark Bear Interactive makes no claims to meteorological expertise, but the information provided—pulled from the National Oceanic and Atmospheric Administration Website—does have a decent level of accuracy and depth, displaying, on the home screen, your current location's time, temperature, humidity, dew point, wind speed, and visibility. When you click on an icon in the upper left hand corner, the screen "flips" and you get the forecast for the next four days.
Emo Weather also enables you to easily bookmark a list of favorite locations and view the weather at those locations or others that you type in.
Among some quotes, displayed on a recent cloudy days: "It's cloudy outside. Think I'll wear my sunglasses." "If only my head was this cloudy …" "There's a gray cloud over my head. Nothing new." While these may get tiresome quickly, the company promises a larger database of quotes in future releases. And the cartoon characters may make you smile in even the worst weather conditions.
[Jeff Merron is a freelance writer and editor living in North Carolina.]